Mayor Eric Adams was booed at a City University of New York (CUNY) School of Law graduation ceremony Friday, after referencing his history as a police officer.
As Adams delivered a short speech to the crowd, dozens of students began shouting when he mentioned his previous service in the New York Police Department (NYPD).
The mayor had been an officer for 22 years, graduating from the New York City Police Academy in 1984.
Video on Twitter shows dozens of law graduates standing up and putting their backs towards Adams in protest of his speech.
COURT ORDER BLOCKS NYC PLAN TO MOVE MIGRANTS UPSTATE AFTER CITY AND COUNTY OFFICIALS FIGHT BACK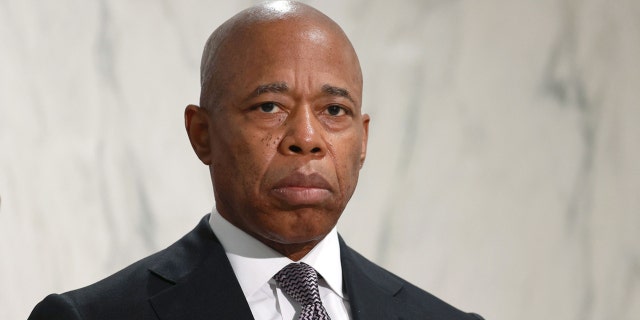 Mayor Eric Adams is pictured during briefing at the Javits Federal Building on April 17, 2023.  ((Luiz C. Ribeiro/New York Daily News/Tribune News Service via Getty Images))
"These graduates that are here, that are now going to go into the field of law, some of them are going to craft policies on healthcare, some of them are going to work with the elected officials to determine legislation, some of them are going to move on, and even fill the role of what it is to be a public figure," Adams said during his speech.
"Let's be clear, for 22 years of my life, I wore a bulletproof vest and protected the children and families of this city as a police officer," he added, as the crowd jeered.
"So, I know what it is. I know what it takes to hold this city together. And we have a lot of challenges, a lot of things that need discipline," Adams continued.
NEW YORK POL DEPLOYS POLICE TO BLOCK MIGRANT BUSES, THREATENS TO GRAB NYC MAYOR 'BY THE THROAT'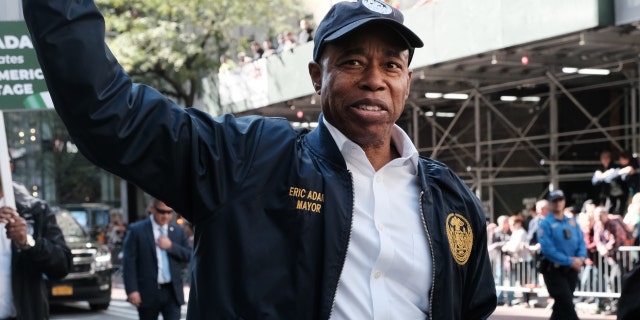 NEW YORK, NY – OCTOBER 10: New York City Mayor Eric Adams walks in the annual annual Columbus Day Parade, the largest in the country, in Manhattan on October 10, 2022 in New York City. Hundreds of attendees cheered from the sidewalks as local politicians, high school bands, Italian racing cars and groups associated with Italian heritage marched up Fifth Ave.  (Photo by Spencer Platt/Getty Images)
The students' protests come as the city grapples with the killing of Jordan Neely on a subway train last week. Daniel Penny, the Marine veteran who held Neely in a chokehold while he was acting erratically, was arraigned Friday.
The NYPD was criticized after releasing Penny without charges following the incident. Protestors and the NYPD clashed during demonstrations last week.
The CUNY Law speech was not the first time Adams was booed in public. During a Brooklyn Pride parade last June, Adams was heckled by attendees who reportedly shouted profanities and flipped him off with the middle finger.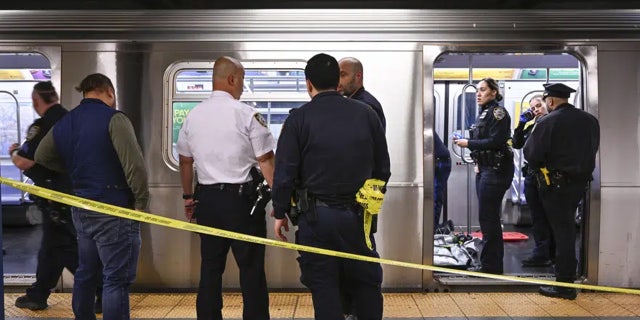 New York police officers respond to the scene where a fight was reported on a subway train, Monday, May 1, 2023, in New York. A man suffering an apparent mental health episode aboard a New York City subway died on Monday after being placed in a headlock by a fellow rider, according to police officials and video of the encounter. (Paul Martinka via AP)
Fox News Digital reached out to the New York City Mayor's Office for a statement, but did not receive a response.