Authorities are using drones to monitor Long Island waters following a flurry of recent incidents with sharks off New York shores.
Earlier this week, five people reported being bitten by sharks at popular beaches.
In response to encounters there and in other police jurisdictions, the Suffolk County Police Department said it would increase its shark patrols, using drones for an aerial view.
"While residents are encouraged to enjoy the summer at the beach, swimmers should remain vigilant when in the water. If you see a shark, or a pod of bunker fish that attract the predators, calmly exit the water and alert the lifeguard on duty or a local official," the department said on Facebook.
Data from the University of Florida's Florida Museum of Natural History International Shark Attack File shows New York had the second-most unprovoked shark bites in the country last year.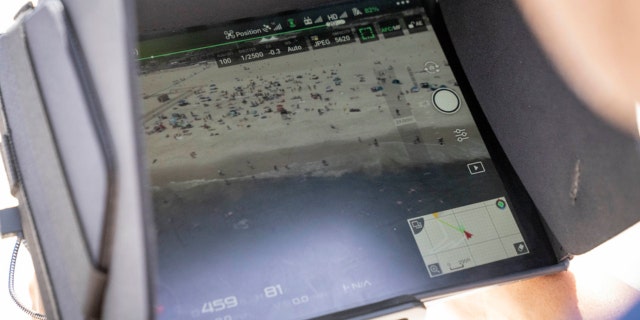 Cary Epstein, lifeguarding supervisor, monitors the waters from above as he operates a drone for a shark patrol flight at Jones Beach State Park, Thursday, July 6, 2023, in Wantagh, New York. (AP Photo/John Minchillo)
Even without serious injuries, Gorman said he and others are concerned about a rise in these cases. Before 2022, New York had only recorded a dozen unprovoked bites.
NEW YORK BEACHGOERS BITTEN BY SHARKS ON FOURTH OF JULY WEEKEND
Around a dozen species of sharks are said to swim off Long Island. Drone footage on July 4 spotted what officials initially feared were sand sharks in the water near Robert Moses State Park, though the New York State Parks Department told Fox News on Friday that it actually was another species of fish.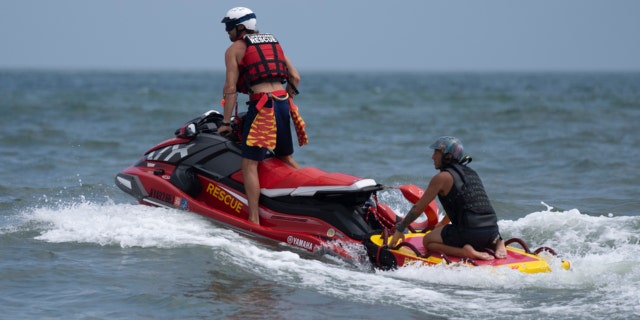 Lifeguards ride a jet ski during a shark patrol run at Jones Beach State Park, Thursday, July 6, 2023, in Wantagh, New York. (AP Photo/John Minchillo)
CLICK HERE TO GET THE FOX NEWS APP
Sand sharks are unlikely to attack humans unless provoked, according to scientists.