A U.K. woman has created a unique display to honor King Charles III just for his coronation: She's collected about 150 gnomes, some even with royal likenesses.
Nikki Potter, 55, of Sutton, United Kingdom, started her gnome collection during the coronavirus pandemic, the news agency SWNS reported.
She often arranges them into scenes in her front garden to entertain passersby.
KING CHARLES OFFICIALLY CROWNED IN CORONATION CEREMONY
For the coronation of King Charles III on May 6, she added a "royal flavor" to her newest scene, said SWNS.
The creative scenes are a hit with her neighbors, she said.
"I've collected them for quite a long time now," Potter told SWNS. "I just like their faces. They make me smile."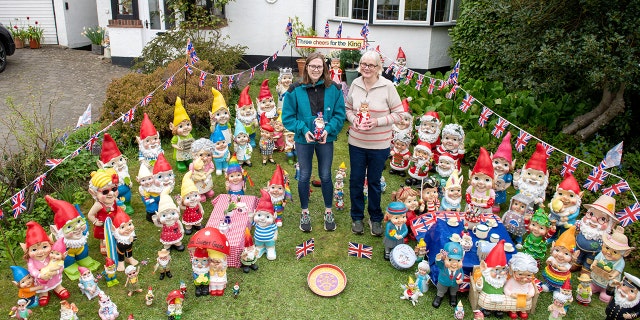 Nikki Potter and her daughter Jemima shown in their front garden. Potter has created a display of gnomes to honor King Charles III.  (SWNS)
"It's just been a lovely thing," Potter said of neighborhood feedback.
"One lady said she came every day to see the gnomes and that it makes her mind cheerful for the day."
CORONATION ADVICE FROM ONE IN THE KNOW: GRENADIER GUARD AT QUEEN ELIZABETH II'S EVENT SPILLS SECRETS
She continued, "One little boy would come on his scooter every day with his mom and watch us put them out. I used to get up early on a Saturday morning as one family would come up on their bikes with their dad to have a look."
For the coronation festivities, Potter is having a "tea party" and will invite people to come see her collection, she said.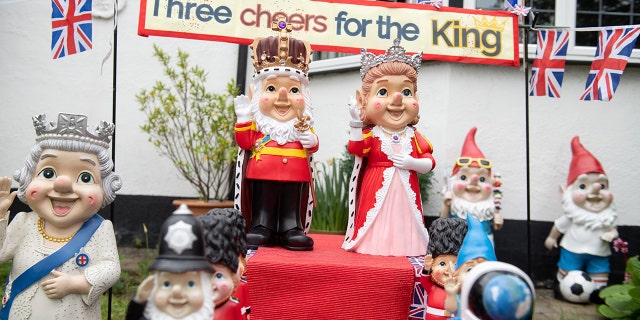 Among Nikki Potter's collection of garden gnomes are figures modeled after King Charles III and Queen Camilla.  (SWNS)
"People can come and have a look and enjoy," she added.
While the gnome displays began during the pandemic lockdown as a way to entertain people on walks, they have since grown into an event all their own.
GROUP MAKES GIANT KNITTED KING CHARLES III TRIBUTE AHEAD OF CORONATION
"In the pandemic I put one gnome in the window, and people would stop and look," said Potter. "So I thought, 'I'll put two out,' and then three — and it carried on from there."
She added, "I did it for the church I belong to for the children as well," noting that she would message her displays each day to a WhatsApp group of her fellow church members.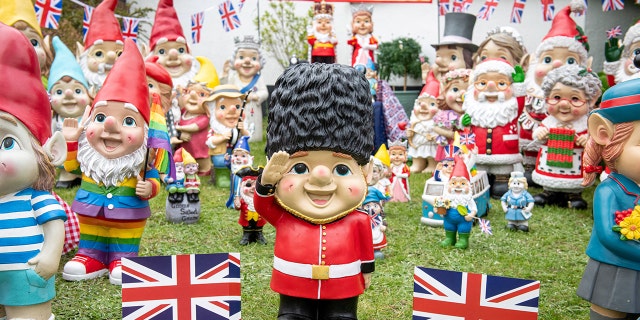 The collection also includes gnomes modeled after Grenadier Guards, as well as more traditional-looking figures. (SWNS)
She'd even include a game in each picture, similar to "Where's Waldo."
"I'd hide a tiny [gnome] in the picture and the kids would try and find the tiny one first," she said.
She organized her first royal-themed display for the 75th anniversary of D-Day, Potter told SWNS.
LONDON WOMAN MIGHT BE 'BRITAIN'S BIGGEST ROYAL SUPERFAN': SEE HER MASSIVE MEMORABILIA COLLECTION
"We had the Queen (Elizabeth II) gnome out and made a scene for that," she said. "Then did the same for the jubilee."
CLICK HERE TO SIGN UP FOR OUR LIFESTYLE NEWSLETTER
Potter is glad that her gnome collection became a bright spot for people during the pandemic lockdowns.
CLICK HERE TO GET THE FOX NEWS APP
"I got to know a lot of people through it," she said.
"People still tell me that they remember the gnomes."