A safe firearm storage campaign launched Monday by the North Carolina governor's administration aims to counter a recent surge in gun thefts and shooting injuries by making safety features available to more gun owners statewide.
The initiative will distribute free gun locks starting this week and equip local law enforcement, doctors and school personnel with resources they can use to teach community members how to prevent children from accessing guns.
Democratic Gov. Roy Cooper said he expects many gun owners will be receptive to the initiative because people do not want their guns stolen or their children accidentally shot.
RALEIGH SHOOTING VICTIMS: WHAT WE KNOW ABOUT THE DECEASED IN TEENAGER'S DEADLY RAMPAGE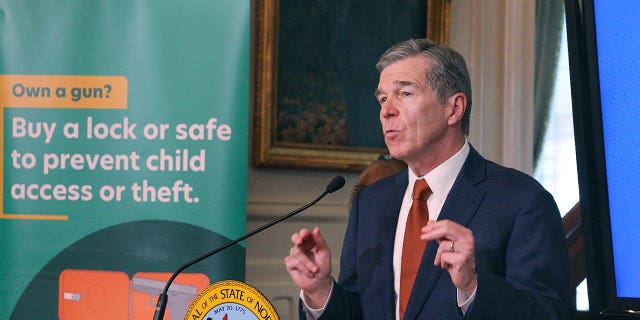 North Carolina Gov. Roy Cooper announces a new campaign promoting the safe storage of firearms on June 5, 2023, in Raleigh. (AP Photo/Hannah Schoenbaum)
State Department of Public Safety Deputy Secretary William Lassiter said he hopes the storage program — a partnership with several gun dealers around the state — will reduce suicides by allowing people to temporarily remove a gun from their home if they or a family member are considering suicide.
The campaign, which Lassiter said has a total budget of just over $2.5 million, comes the year after a 15-year-old boy killed five people and injured two more in a shooting rampage in Raleigh.
WHO IS THE RALEIGH MASS SHOOTING SUSPECT? EVERYTHING TO KNOW ABOUT AUSTIN THOMPSON
She urged gun owners to stop making careless mistakes, such as leaving their guns in unlocked cars or on the seats of their vehicles. Last year, 582 firearms were stolen from cars in the capital city, she said, and 179 have been stolen so far this year.
The initiative has purchased 25,000 cable locks, which retail for about $7 to $13, and 200 gun safes that it will distribute for free between now and January, Lassiter said. The state is currently applying for federal funding to continue the campaign.
A bipartisan proposal scheduled for debate Wednesday in a House committee could build upon the campaign by providing a temporary sales tax exemption for safe storage equipment and a tax credit for residents who buy that equipment.