Tennis star Novak Djokovic has made it clear he routinely will use negativity from a variety of places as motivation.
Whether the negativity comes from the fans, the umpire or a perceived lack of support from his friends and coaches in the stands, the No. 3 player in the world will look for almost anything to fuel him.
Djokovic is facing criticism after a comment he wrote about the clashes in northern Kosovo following a first-round victory at the French Open.
He's also not pleased with how he's generally being treated by spectators.
The match lasted 3 hours and 36 minutes. Aside from double-faulting three times in a single game, Djokovic seemed particularly annoyed by the feedback coming from a portion of the fans.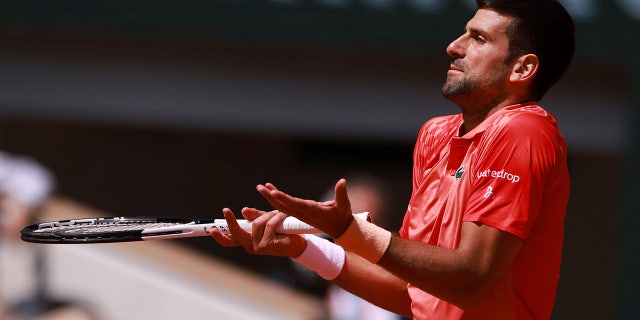 Novak Djokovic of Serbia reacts during a men's singles first-round match against Aleksandar Kovacevic at the French Open at Roland Garros in Paris May 29, 2023. (Gao Jing/Xinhua via Getty Images)
"A majority of the people comes to enjoy tennis or support one or the other player. But they are individuals. There are people — there are groups or whatever — that love to boo every single thing you do. That's something that I find disrespectful, and I frankly don't understand that," Djokovic said later at his news conference.
"But it's their right. They paid the ticket. They can do whatever they want."
Sitting in his chair with his shirt off and a white towel around his shoulders, Djokovic heard it all and responded with gestures. He waved a hand, as if to say, "Give me more!"
And he gave a sarcastic thumbs-up and nodded. He applauded. He shook his head and chuckled.
CLICK HERE TO GET THE FOX NEWS APP