With other state lawmakers seated around her in the Ohio House, Democratic state Rep. Tavia Galonski got to her feet and began to loudly chant, "One person, one vote!"
The former Teamster's cry spread quickly through the visitors gallery, then began to rise from the throng of protesters gathered outside in the statehouse rotunda. Struggling to be heard over the din, the Republican speaker ordered spectators cleared from the chamber.
Last week's striking scene came as Ohio joined a growing number of Republican-leaning states that are moving to undermine direct democracy by restricting citizens' ability to bypass lawmakers through ballot initiatives and constitutional amendments.
The Ohio proposal will ask voters during an August special election to boost the threshold for passing constitutional amendments to 60% rather than a simple majority. It also would double the number of counties where signatures must be collected, adding an extra layer of difficulty to qualifying initiatives for the ballot.
The Missouri Legislature failed to approve a similar measure on Friday, but Republicans vowed to bring the issue back in 2024 in an attempt to head off a citizens' attempt to restore abortion rights in the state through a constitutional amendment.
A similar measure will be on North Dakota's ballot next year, while one in the works in Idaho would ask voters to increase signature requirements imposed on petition gatherers. In Wisconsin, which does not allow statewide citizen initiatives, Republicans who control the Legislature have proposed prohibiting local governments from placing advisory questions on ballots. Such referenda are sometimes used to boost voter turnout, though results don't carry the weight of law. Florida Republicans added new hurdles to that state's constitutional amendment process in 2020.
The trend has taken off as Democrats and left-leaning groups frustrated by legislative gerrymandering that locks them out of power in state legislatures are increasingly turning to the initiative process to force public votes on issues that are opposed by Republican lawmakers yet popular among voters. Only about half the states, mostly in the Western U.S., allow some form of citizen ballot initiative.
OHIO REPUBLICANS PUSH TO RESTRICT CHANGES TO STATE'S CONSTITUTION AS ABORTION RIGHTS REMAIN A QUESTION
In Ohio, voters have proposed using the initiative process to enshrine abortion rights in the state constitution this November, as well as to increase the minimum wage, to legalize recreational marijuana and to reform a redistricting system that has produced persistently unconstitutional political maps favoring Republicans.
Arkansas Sen. Bryan King, a Republican who has joined the League of Women Voters in a lawsuit challenging his state's latest initiative restriction, said he views efforts to undermine the initiative process as anti-democratic.
A measure approved earlier this year by Arkansas' majority-GOP Legislature and signed by Republican Gov. Sarah Huckabee Sanders makes it harder to get initiatives on the ballot by raising the number of counties where signatures must be gathered from 15 to 50.
"I think one of the things it does is, no matter what party is in power, when you start trying to make it harder for citizens to challenge what their government does or make changes, then it just makes people not have faith in the process," King said. "So I do think that making it harder is wrong."
In Ohio, former governors and attorneys general of both major parties have lined up against the proposed constitutional amendment that would alter the simple majority threshold for passing citizen-led initiative that has been in place since 1912.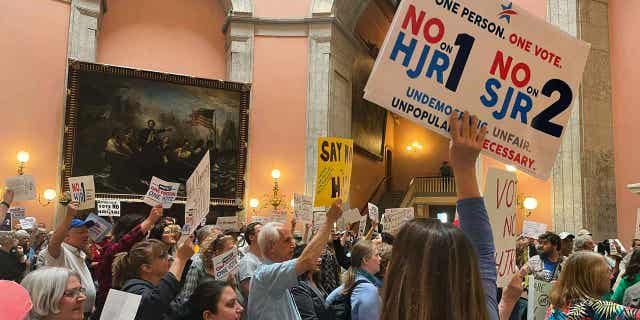 Supporters and opponents of a Republican-backed measure to make it harder to amend the Ohio constitution packed the statehouse on May 10, 2023, in Columbus, Ohio. Ohio has joined a growing number of Republican-led states moving to restrict citizens' ability to bypass lawmakers through ballot initiatives. (AP Photo/Samantha Hendrickson, File)
Democratic legislators point to the bipartisan opposition and the maneuvering that allowed the proposal to be on an August ballot as evidence that today's Republicans are extremist in their desire to maintain political power.
Republican state Rep. Brian Stewart, the Ohio plan's sponsor, argued during last week's raucous floor session that a simple majority of voters will get to decide whether to impose the stricter requirements on future ballot initiatives.
"SJR 2 will ask Ohioans, not us, whether Ohio's constitution should require a 60% vote threshold to adopt amendments going forward. It will ask Ohioans, not us, to decide whether all 88 counties should have a voice in determining what amendments make it onto the ballot and to eliminate the cumbersome 'cure' period, which gives initiative petitions effectively a do-over when they fail to meet the requirements for ballot access," he said. "Putting this issue in front of Ohioans, that is democratic."
What Stewart didn't address is how Republicans circumvented a law they had just passed so they could put the proposed amendment on a summertime ballot when voter turnout is typically quite low, rather than putting it before voters in the regular election this November.
OHIO GOV. MIKE DEWINE ANNOUNCES NEARLY $3 MILLION IN MENTAL HEALTH AID FOR THOSE IMPACTED BY TRAUMATIC EVENTS
Democratic Rep. Casey Weinstein called out Stewart and Ohio Secretary of State Frank LaRose, a Republican, for previously opposing the very August special elections that they supported for offering the 60% question.
Weinstein read in its entirety LaRose's testimony from December advocating for the provisions of a new law — signed in January — that eliminated most August elections. LaRose argued that making big decisions, including those regarding ballot issues, in chronically low-turnout August elections "isn't the way democracy is supposed to work" and that such elections "aren't good for taxpayers, election officials or the civic health of our state."
In testimony, Mark Gavin Sr., outreach director for the Black Environmental Leaders Association, referred to the U.S. Constitution's counting of enslaved people by calling the Ohio proposal "the new Three-Fifths Compromise."
Gavin was among hundreds of protesters who packed statehouse hearings and overflow rooms, testified and marched in opposition to the Republican proposal, which he said is intended to dilute the power of individual voters.
"I've been a voter in Ohio for 15 years, and it's getting really old to always have to have new rules and regulations on a ballot," he said.
Anti-abortion and pro-gun groups were the primary forces behind the push in favor of the proposed Ohio amendment. Since the Supreme Court's decision last year overturning Roe v. Wade, voters in Michigan, Kentucky and Kansas have protected abortion rights through statewide votes.
David Couch, an attorney who has worked on citizens' initiatives in Arkansas, said Republicans' efforts to thwart direct democracy are uniquely partisan.
"If you look in Arkansas history in the '90s, when the Democrats controlled Arkansas, the conservative right passed same-sex marriage amendments, they passed adoption amendments," he said. "They passed all sorts of reforms, and the Democrats didn't try to change the process."
Democrats in Missouri did try to cripple the initiative process through legislation in 1992. Then-Gov. John Ashcroft, a Republican who went on to serve as U.S. attorney general, vetoed the bill. Ashcroft's son, Jay, is the state's current secretary of state.
CLICK HERE TO GET THE FOX NEWS APP
"It is through the initiative process that those who have no influence with elective representatives may take their cause directly to the people," the elder Ashcroft said in a veto letter that became part of this year's debate. "The General Assembly should be reluctant, therefore, to enact legislation which places any impediments on the initiative power which are inconsistent with the reservation found in the Constitution."
Missouri's Republican lawmakers are singing a different tune today. Fearing a constitutional amendment to protect abortion rights, they vowed last week to make it a priority in 2024 to adopt a ballot measure that would establish a 57% threshold for passing future amendments.
Not all Republicans in the state think that's a good idea. Former Republican House Speaker Pro Tem Carl Bearden said the proposal would infringe on the rights of Missouri voters while noting that the initiative process is intended to be a check on the power of the Legislature.
"It is not a conservative policy," he said of the Republican plan.