Pakistan's former Prime Minister Imran Khan was arrested Tuesday morning after appearing at the Islamabad High Court on corruption charges, with dramatic footage showing him being escorted away by dozens of security forces before he was loaded into a black armored vehicle and driven off.
The incident has been met with condemnation by his supporters, who have called for massive protests in a move that could escalate already tense internal politics within the nuclear-armed nation.
Reports noted that the former prime minister, who led from 2018-2022, was forcibly dragged out of the courtroom by Pakistan's National Accountability Bureau, according to a senior official in Khan's Pakistan Tehreek-e-Insaf (PTI).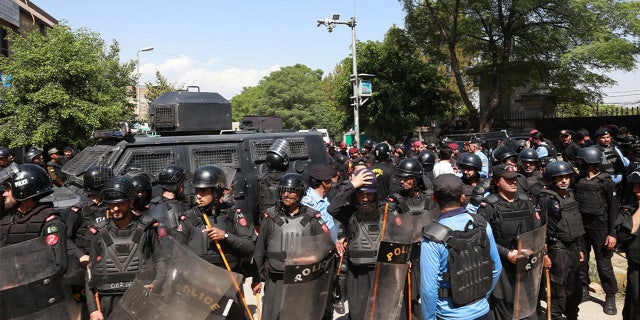 Pakistani security forces outside the Islamabad High Court, where former Prime Minister Imran Khan was due to appear, in Islamabad, on May 9, 2023.  (Muhammad Reza/Anadolu Agency via Getty Images)
GUNMEN STORMS PAKISTANI SCHOOL AND KILLS 7 TEACHERS AS REGION FACES A WAVE OF MILITANT ATTACKS
Footage of the event showed Khan being quickly walked down a street outside the courthouse by hordes of guards donning riot gear.
Streets have already been blocked by dozens of protesters in Khan's hometown of Lahore, roughly 230 miles south of Islamabad near the border with India, where police have reportedly been put on high alert.
Even further south, in the port city of Karachi, protesters have also blocked a major road in response to the arrest.
Khan's party has called on supporters to "shut down Pakistan" in a show of opposition.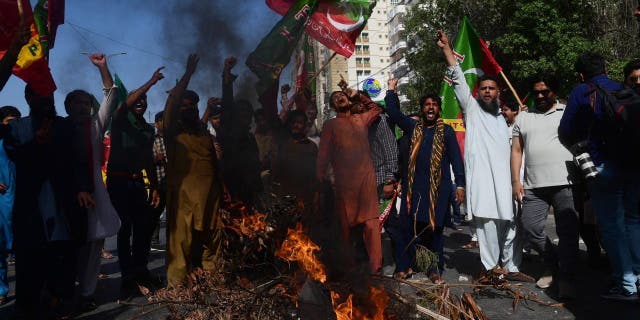 Pakistan Tehreek-e-Insaf party activists and supporters of former Pakistan Prime Minister Imran block a road during a protest against the arrest of their leader in Karachi on May 9, 2023. (Asif Hassan/AFP via Getty Images)
FORMER PAKISTANI PRIME MINISTER IMRAN KHAN RALLIES THOUSANDS OF SUPPORTERS DESPITE ARREST WARRANTS
"It's your time, people of Pakistan. Khan has always stood for you, now it's time to stand for him," officials from the PTI wrote on Twitter.
Political tensions in Pakistan have remained heightened since Khan was ousted in April 2022 after losing a no-confidence vote – making him the first Pakistani prime minister to be removed from office by such a proceeding.
Khan has remained opposed to the move and claimed that opposition forces were working with foreign powers under a U.S.-led conspiracy to oust him over his refusal to stand with Washington on issues relating to Russia and China, reported the BBC last year.
The U.S. has rejected these accusations and said there is "no truth" in them. Khan has also yet to provide proof to back up his allegations.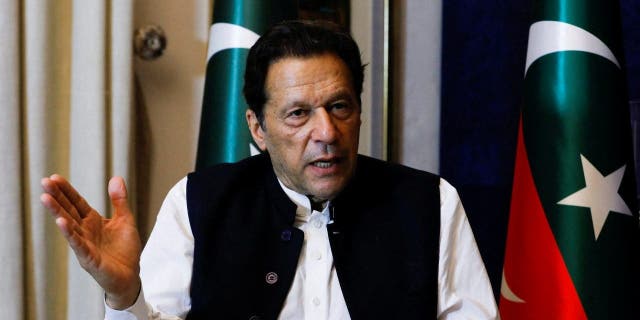 Former Prime Minister Imran Khan during an interview, in Lahore, Pakistan, March 17, 2023. (Reuters/Akhtar Soomro)
CLICK HERE TO GET THE FOX NEWS APP
Interior Minister Rana Sanaullah claimed Tuesday that Khan – whose previous arrest attempts were met with heavy clashes between security forces and his supporters – was arrested by the Accountability security forces after failing to appear before NAB "despite notices."
The bureau issued an arrest warrant for Khan on May 1 on accusations relating to "corruption and corrupt practices."
Reuters contributed to this report.