The Charlotte Lozier Institute (CLI), the 501(c)(3) research and education institute of Susan B. Anthony Pro-Life America, released a fact sheet last month detailing Planned Parenthood's most recent annual financial report.
"I think the biggest takeaway is that Planned Parenthood continues to operate as an abortion giant and generate vast profits, including millions in taxpayer funding," Tessa Longbons, senior research associate at the Charlotte Lozier Institute, told Fox News Digital.
Planned Parenthood's 2021-2022 report noted $1.9 billion in income, and over $2.3 billion in net assets, which the CLI fact sheet observed was an increase from the previous annual report.
Private contributions made up $694.9 million of Planned Parenthood's revenue, which marked a 20% increase from the previous report, according to CLI.
Planned Parenthood performed 374,155 abortions from 2020 to 2021, which marks a decrease of more than 9,300 from the previous year.
"So we saw, once again, they hit record levels of revenue and record levels of taxpayer funding from reimbursement and government grants," said Longbons said of the most recent report. "Very striking to see."
The report also noted that within the past year, 25 states now legally protect babies between conception and 12 weeks.
She noted that such pregnancy centers outnumber Planned Parenthood clinics 14 to one, according to their fact sheet, and have overwhelming public support.
"If you look at just the pregnancy centers, there are nearly 3,000 nationwide, and they serve nearly 2 million clients a year at virtually no cost to clients," she said.
"[They] offer an enormous amount of resources and support to the communities they're in, and it's such a striking contrast to Planned Parenthood, which we've seen over the past couple of decades offer fewer and fewer services, serve fewer and fewer clients, perform more and more abortions and rake in record levels of income."
Many other states have taken steps to enact similar legislation to assist mothers and their babies, CLI observed.
A Knights of Columbus–Marist poll earlier this year found that 69% of Americans support limiting abortion to the first three months of pregnancy at the most. The poll also found that 91% of Americans support pregnancy resource centers, some of which have been vandalized within the past year.
"I don't think that's surprising at all, since these pregnancy centers are doing an enormous amount to support their communities," Longbons said of the poll result. "They offer great value to their communities, and they're there to walk people through difficult situations and to be there alongside them."
More than 100 attacks on churches and pro-life clinics have occurred since the May 2022 leak of he U.S. Supreme Court decision to overturn Roe v. Wade, according to a tracker by the conservative group CatholicVote.
ACTIVIST GROUP THREATENS TO 'BURN EUCHARIST' IN DISPLAY OF 'DISGUST' TOWARD CATHOLICS: 'BIGOTRY'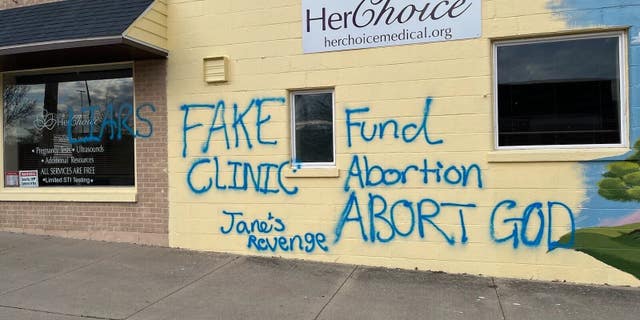 HerChoice, a pro-life pregnancy center in Bowling Green, Ohio, was attacked by "Jane's Revenge" and hit with anti-Christian and pro-abortion graffiti. (Fox News Digital)
Sixty-four pro-life organizations were attacked between the initial leak and March 2023, according to a report from Family Research Council. There have been few arrests linked to such incidents, though Attorney General Merrick Garland has said the FBI is putting its "full resources" behind its investigation into the attacks.