Poland is reverting to using its historical name for Kaliningrad, the Russian city and administrative region that sits on its border.
From now on, it will be designated on Polish maps as Krolewiec, based on the recommendation of the government commission for geographic names abroad.
The Kremlin has reacted angrily: spokesperson Dmitry Peskov called it a "process bordering on insanity," going beyond Russophobia.
POLAND BEGINS BUILDING ELECTRONIC BARRIER AT RUSSIAN BORDER TO MONITOR, COUNTERACT ILLEGAL ACTIVITY
The city, formerly known as Koenigsberg, was ceded from Germany to the Soviet Union after the Second World War. In 1946 it was renamed Kaliningrad, after Mikhail Kalinin, one of the leaders of the Bolshevik revolution.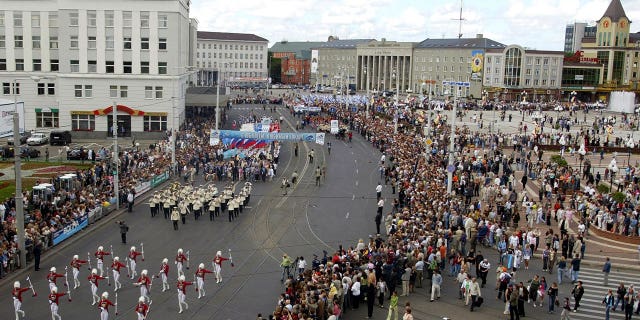 Poland will now recognize the Kaliningrad Oblast, a Russian territory that shares a border with it on the Baltic coast, as Krolewiec, its historical Polish name. (AP Photo/Sergey Ponomarev, File)
The Polish authorities point out that Kalinin was one of six Soviet officials who ordered the execution of more than 21,000 Polish prisoners of war at Katyn and elsewhere in 1940.
They said the current name was artificial, lacking any connection to the city or the region, but the centuries-old name of Krolewiec was part of Poland's cultural heritage.
DUTCH FIGHTER JETS INTERCEPT THREE RUSSIAN MILITARY AIRCRAFT NEAR POLAND, ESCORT PLANES AWAY
The war in neighboring Ukraine has added to the long-standing tensions between Russia and Poland, an ally of Kyiv which has been supplying Ukraine's military with weapons and pressing for more international backing for Ukraine.
Recently, Poland has been the target of incendiary statements by Russian politicians and some public figures.
Russia's ambassador to Poland, Sergey Andreev, was summoned to Poland's Foreign Ministry on Wednesday over an incident last week in the Black Sea region in which a Russian fighter jet performed dangerous maneuvers near a Polish plane which was on patrol for the European border and coastal guard, FRONTEX.
CLICK HERE TO GET THE FOX NEWS APP
On May 9, celebrated as Victory Day in Russia, Andreev was prevented by Ukrainian and Polish activists from laying a wreath at a monument in Warsaw to the Soviet soldiers killed fighting the Nazis.