Italian authorities believe a 5-year-old Peruvian girl was kidnapped from a former hotel housing some 140 illegal immigrants, according to global reports.
Kataleya Mia Chicillo Alvarez was reportedly stuffed into a suitcase and kidnapped from the former Hotel Astor in Florence, where she and her family lived illegally with about 140 other migrants, on June 10, according to Italian news outlet La Repubblica.
A 3-year-old girl who lived in the same hotel as Kataleya reportedly said she saw the 5-year-old crying while being dragged away by an unknown man, the outlet reported.
Investigators are examining a cellphone found in a trash can near the hotel, according to La Repubblica.
Kataleya's mother, Kathrina Alvarez, was apparently hospitalized after drinking bleach in desperation after her daughter's disappearance, La Repubblica reported.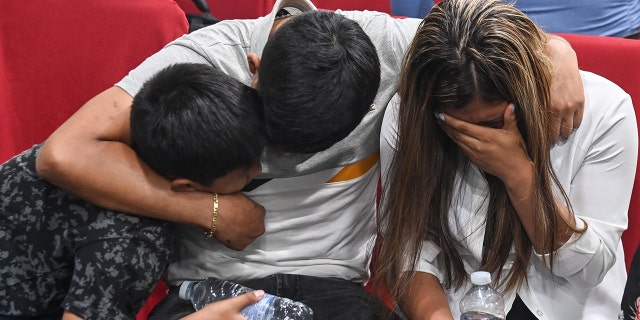 Relatives of a missing 5-year-old girl react during a religious ceremony at the Baptist church in Florence, Italy. (CLAUDIO GIOVANNINI/EPA-EFE/Shutterstock)
"I made a mistake. I'll be fine, forgive me if for a moment I thought about giving up and losing hope. But now I'm stronger, and I won't rest until I find [her]," she said, according to the outlet.
Her father, Miguel Angel Romero, reportedly said he has had issues with the former hotel in the past and speculated that Kataleya's kidnapping may be an "extortion" attempt. The 140 migrants were apparently evicted from the hotel on Saturday.