A California history professor said he was suspended by the school he's worked at for three decades after he brought "anti-woke" chocolates on campus.
At a campus open house on April 29, Professor David Richardson of Madera Community College brought parody chocolate bars as snacks to share at his table display. The chocolate bars mock candy company Hershey's and are labeled with "she/her" pronouns for nutless and "he/him" for bars with nuts. Richardson said a staff member was offended by the bars and tried to engage him in a confrontation, but he didn't engage as he did not want to "make a scene" at the campus event.
Nobody said anything to him afterward, the professor claimed, so he was surprised when a uniformed school police officer knocked on his residence to deliver a notice of administrative leave on Monday.
He's been locked out of his school e-mail and barred from campus, with only two weeks to go until the end of the semester, he relayed to Fox News Digital. He said he's had no contact from the school.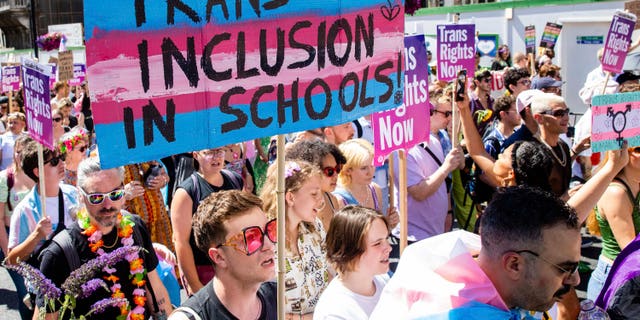 A protester voices support for the promotion of transgender ideology in schools during a pro-transgender march in October 2022. (Mark Kerrison/In Pictures via Getty Images)
FIRED COLLEGE PROFESSOR WHO OPPOSED SOCIAL JUSTICE INITATIVES SPEAKS OUT: 'STATE-FUNDED SMEAR CAMPAIGN'
"And I'm being investigated for, 'creating a hostile work environment based on gender,'" Richardson stated.
The professor whose been working in the college district for three decades said he was well-respected by faculty, students and the administration up until a few years ago, when the school began pushing acceptance of transgender ideology and he resisted.
Richardson, who worked in the history department, was required to go through diversity training last year after a fellow staff member accused him of "mockingly misgendering" them after Richardson said he used their preferred pronouns but in a sarcastic way. He says he found the discrimination training ironic, as he is gay. The professor is currently in litigation with the school over this incident.
"I feel as if they've been sort of looking for a reason to get rid of me because I don't share the current opinion on neo pronouns and that kind of stuff," he said.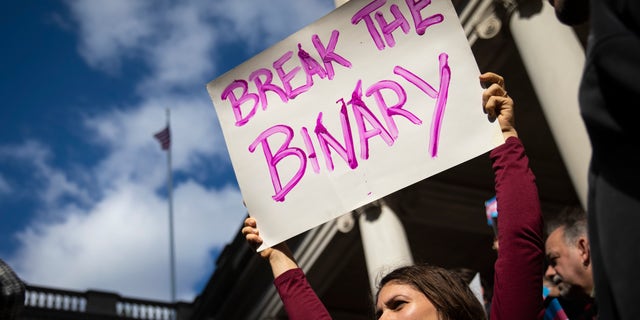 NEW YORK, NY – OCTOBER 24: L.G.B.T. activists and their supporters rally in support of transgender people on the steps of New York City Hall, October 24, 2018 in New York City. (Photo by Drew Angerer/Getty Images) (Drew Angerer/Getty Images)
FIRED COLLEGE PROFESSOR WHO OPPOSED SOCIAL JUSTICE INITATIVES SPEAKS OUT: 'STATE-FUNDED SMEAR CAMPAIGN'
Faculty evaluations now require professors to implement Diversity, Equity, Inclusion and Accessibility "DEIA" standards, Richardson said. "Everything we do now is geared towards this ideology and diversity of viewpoint is being eliminated."
As a result there's been a chilling effect on free speech and weakening of academic standards, he argued.
Richardson said others have told him privately that they agree with him but don't speak up for fear of punishment.
"People are afraid. Well, especially when they see what happens to people like me. They're afraid to just speak up," he said.
The professor of history compared the school's intolerance to viewpoints that disagreed with the liberal ideology similar to the "Red Scare" of the 1940s and '50s.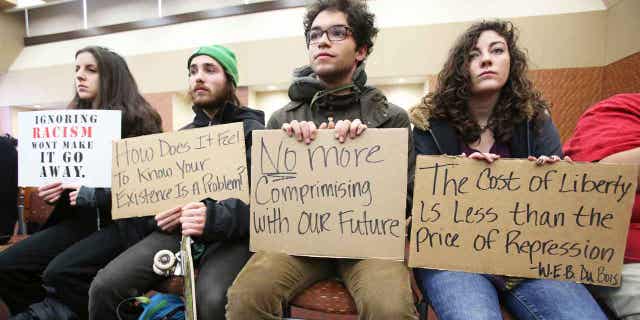 FILE – University of Wisconsin-Madison students, from left, Marisa Skelley, Martin Jarzyna, Sam Broadnax and Morgan Menke hold up signs protesting racism on campus during a meeting for the UW System Board of Regents on campus in Madison, Wis., Dec. 11, 2015. (Amber Arnold/Wisconsin State Journal via AP, File) (Amber Arnold/Wisconsin State Journal via AP, File)
CLICK HERE TO GET THE FOX NEWS APP
"We're basically being forced to take loyalty oaths. It was sort of like the second 'Red Scare' back in the late '40s, early '50s, that if we cannot demonstrate our full commitment to the ideology, we will be purged. And I think I may find myself in that situation sooner rather than later," he feared.
The near 60-year-old professor said he's had friends advise him to finish his career quietly and avoid controversy.
"But I wasn't raised that way," he stated. "I never dreamed that expressing a different opinion could bring me to this point in my career."
Madera Community College declined to comment on Richardson's suspension to Fox News Digital.