Ken Klippenstein, a reporter for The Intercept, caused an uproar on Twitter after naming Sen. Dianne Feinstein's, D-Calif., staffers in an effort to "blacklist" them on Wednesday.
Feinstein officially returned to the Senate on Wednesday after a shingles diagnosis caused her to take a months-long absence. This absence along with her age (Feinstein is 89 years old) has caused concern among Democratic lawmakers that she should resign in order to continue the Democratic agenda.
Klippenstein similarly attacked Feinstein's refusal to resign, criticizing her staffers for refusing to push for her to leave office. In a lengthy Twitter thread, he went as far as to name the staffers and display their pictures to more than 500k followers.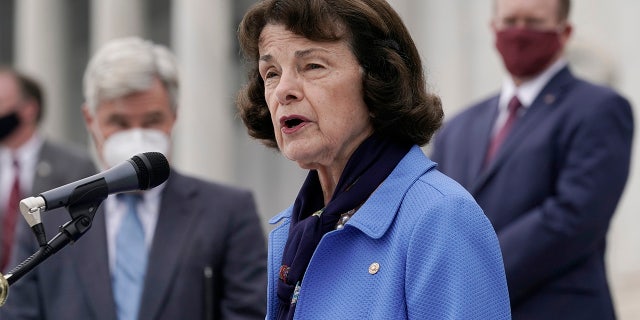 Senate Judiciary Committee ranking member Sen. Dianne Feinstein, D-Calif., speaks during a news conference on Oct. 22, 2020, at the Capitol in Washington.  (AP Photo/J. Scott Applewhite, File)
"Alright it's time to name and shame Dianne Feinstein's staff, all of whom should be blacklisted from politics forever for caring so little about their country that they refuse to resign," Klippenstein tweeted.
CBS REPORTER DEMANDS SENATORS WORRIED ABOUT DIANNE FEINSTEIN'S COGNITIVE DECLINE COME FORWARD 'ON THE RECORD'
Critics called out Klippenstein's thread as "deranged" behavior that showed ignorance for listing low level positions like staff assistants and press aides.
"Not only is this deranged, it's embarrassingly ignorant of how congressional offices work. Do you really think the 22-year-old staff assistant who's maybe talked to DiFi once is going to get her to resign, Ken?" former GOP communications director Natalie Johnson tweeted.
Republican communicator Matt Whitlock agreed, "Imagine naming and shaming LC's and staff assistants because you're mad Feinstein won't just hand over her Senate seat. This is deranged, broken brained behavior."
"A) these staffers make sure sh*t keeps running in an office that represents more than 39M people, under incredibly difficult circumstances B) including the whole staff from COS to SA shows such a lack of knowledge on how these offices work/actually interact with their member," Daily Beast reporter Ursula Perano explained.
GOP political consultant Nathan Wurtzel exclaimed, "I have seen a lot of sh–ty things done on Twitter, but this probably is the worst. Ken got the attention he wanted. I hope he understands that when you threaten someone's job, they may respond in unpredictable ways. And I kind of hope he learns it the hard way."
"Yeah, those LCs living with three roommates to afford DC's rent should probably resign to *checks notes* get their boss, a senator, to resign. This is absurd," FiveThirtyEight analyst Geoffrey Skelley joked.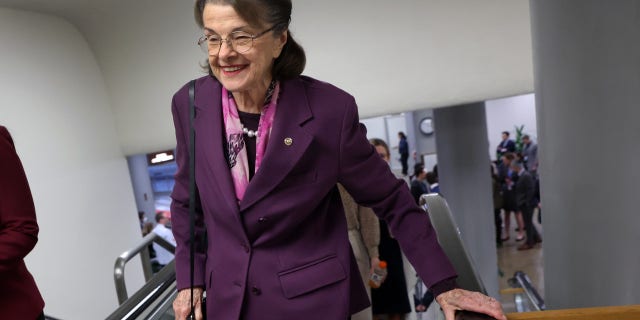 U.S. Sen. Dianne Feinstein took a months-long absence from the Senate in 2023. (Kevin Dietsch/Getty Images)
NEW YORK TIMES EDITORIAL BOARD CALLS ON SEN. FEINSTEIN TO RESIGN: 'HER ABSENCE IS A FAILURE'
Klippenstein did not respond for a comment to Fox News Digital.
Although Democratic lawmakers have called for her resignation, Feinstein insisted in December that she will not step down early despite health issues and a reportedly failing memory. However, she announced in February that she would be retiring at the end of her term and would not seek re-election in 2024.
The New York Times Editorial Board on Friday called for her resignation after criticizing Feinstein for failing to "fulfill her obligations to the Senate."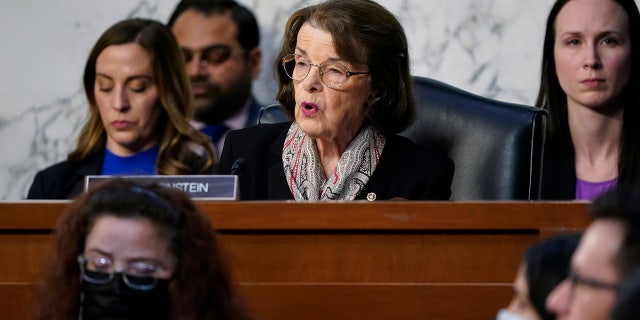 Democratic lawmakers have called on Sen. Dianne Feinstein, D-Calif., to resign due to her age and health issues. (AP Photo/J. Scott Applewhite, File)
CLICK HERE TO GET THE FOX NEWS APP
"If she cannot fulfill her obligations to the Senate and to her constituents, she should resign and turn over her responsibilities to an appointed successor. If she is unable to reach that decision on her own, Mr. Schumer, the majority leader, and other Democratic senators should make it clear to her and the public how important it is that she do so," the Times' editorial board wrote.