This story discusses suicide. If you or someone you know is having thoughts of suicide, please contact the Suicide & Crisis Lifeline at 988 or 1-800-273-TALK (8255).
A retired Green Berets chief who founded a nonprofit to help veterans struggling with suicidal thoughts told Fox News Digital that identity politics has been seeping into the military, which he said works against building cohesion among the ranks to the central mission of protecting the country.
Michael R. Carmichael, a retired Army Special Forces chief warrant officer who served in the Special Forces for 22 years and deployed on 11 combat missions, is also raising awareness that veteran suicides are likely higher than the official statistics and that Americans need to help them.
"I know what's right and wrong from the eyes of the establishment," Carmichael told Fox News Digital, citing his experience.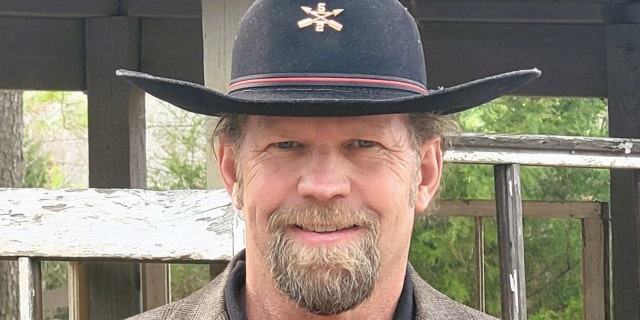 Retired Green Beret Michael Carmichael served for 26 years and deployed on 11 combat missions. (Michael Carmichael)
When reached for comment, a Navy spokesperson said in a statement at the time, "The U.S. Navy posted graphics in support of the start of Pride month to honor the service, commitment, and sacrifice of the LGBTQ+ Service members and personnel who volunteer to defend our country."
"As we do with all Defense Equal Opportunity Management Institute (DEOMI) observance months, we will look for additional opportunities to celebrate the diversity and strength of our Sailors. Members of the LGBTQ+ community serve their country, fully contribute to the DOD mission, and deserve a welcoming environment which enables them to reach their full potential," the spokesperson added.
Carmichael warned that singling out any identity group over another is not conducive to the military's goal of building a unified team. He traced the beginning of such trends to the repeal of the "Don't Ask, Don't Tell" policy during the early years of the Obama administration in 2011.
"They weren't Nostradamus, they were in leadership and service," Carmichael continued. "Everything that they said back then is coming true now."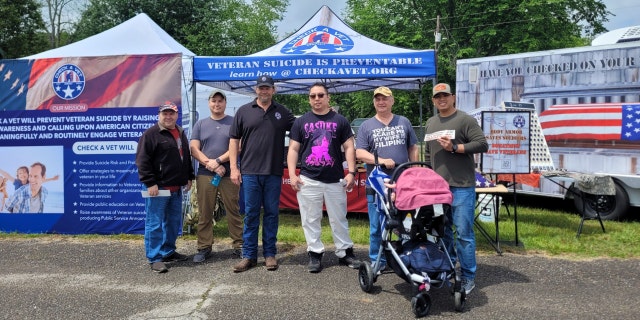 Michael Carmichael stands with veterans at a Check A Vet display. (Check A Vet)
Carmichael said such issues and the debate about them serve as "just a distraction" from the military's goal of molding a close-knit team and "getting the mission done."
Carmichael also maintained that the importance of being a team extends beyond a service member's years of service. To that end, he founded Check A Vet, a nonprofit that aims to prevent veteran suicide and raise awareness about the many veterans who struggle with their mental health.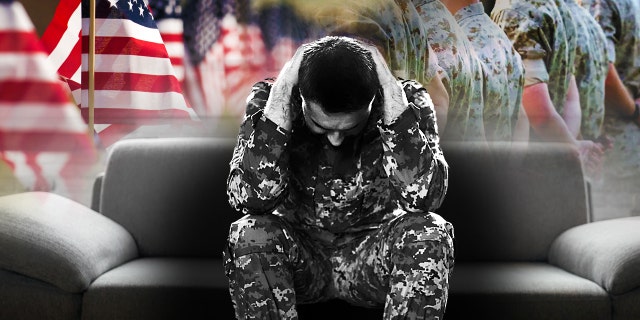 The rate of veteran suicide may be more than double than that reported annually by federal officials, according to a joint study released last year by America's Warrior Partnership with the University of Alabama and Duke University. (iStock)
Carmichael said that in his position as president of Check A Vet, he fights to reduce these numbers by interacting with some of the hardest-hit veterans after most others in their life have alienated them.
"Veterans can be our own worst enemy in that we can be mean, we can be short, we can be opinionated in ways that aren't popular," he said, adding that getting people to look past those issues is one goal of his organization.
COMFORT FOR MILITARY FAMILIES: US NONPROFIT HOUSES LOVED ONES OF INJURED, FALLEN SERVICE MEMBERS
CLICK HERE TO GET THE FOX NEWS APP
"Peel the camouflage off of this thing, and what are we trying to do? Get people to love their neighbor," he added.