Texas Department of Public Safety troopers arrested an alleged Mexican Gulf Cartel operative on Tuesday on claims that he helped five illegal immigrants cross into the U.S.
Texas DPS Lt. Chris Olivarez shared footage of the arrest on Twitter on Wednesday, which shows a trooper interviewing Jose Juan Eufracio Medina, an illegal immigrant from Mexico.
Olivarez said the DPS brush and drone teams located a smuggler, or coyote, later identified as Medina, who guided a group of illegal immigrants across the Rio Grande River.
He also allegedly helped the illegal immigrants scale the border wall with a ladder.
HHS CHIEF TO TESTIFY BEFORE HOUSE SUBCOMMITTEE OVER UNACCOMPANIED CHILD MIGRANT CRISIS AFTER GOP PRESSURE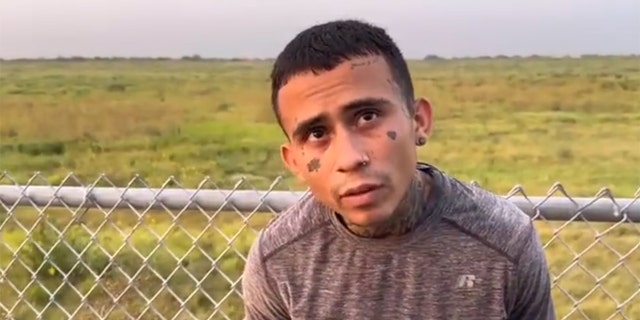 Jose Juan Eufracio Medina was arrested in the Rio Grande Valley sector of Texas on Tuesday for allegedly smuggling five illegal immigrants into the U.S. (Texas Department of Public Safety)
During the interview, Medina said he helped the group by holding a ladder as the illegal immigrants scaled the border wall, so they would not fall, but he insisted he was independent of the group.
When asked why the group followed him, he told the trooper it could be because he was more wise, understanding and capable.