Russia unleashed intense drone and missile attacks overnight Wednesday, damaging critical port infrastructure in southern Ukraine, including grain and oil terminals, and wounding at least 12 people, officials said.
The bombardment crippled significant parts of grain export facilities in Odesa and nearby Chornomorsk and destroyed 60,000 tons of grain, according to Ukraine's Agriculture Ministry.
It came days after President Vladimir Putin pulled Russia out of its participation in the Black Sea Grain Initiative, a wartime deal that enabled Ukraine's exports to reach many countries facing the threat of hunger.
It also followed a vow by Putin to retaliate against Kyiv for an attack Monday on the crucial Kerch Bridge linking Russia with the Crimean Peninsula, which the Kremlin illegally annexed in 2014.
Wheat prices rose more than 2.5% on Tuesday and over 3% on Wednesday amid the Russian attacks in Odesa, a key hub for exporting grain, illustrating jitters in global markets after Moscow withdrew from the grain deal, threatening to worsen hunger in some parts of the globe. However, Wednesday's trading price of $6.91 a bushel was still more than 85% below last year's peak.
Video from warehouses elsewhere in Odesa showed firefighters extinguishing blazes with thick black smoke still billowing from the explosion.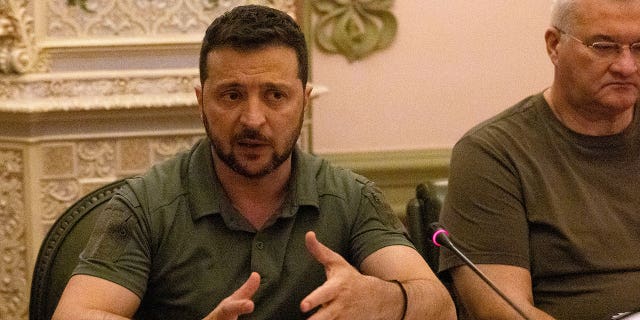 Ukrainian President Volodymyr Zelensky attends a meeting with Ireland's Prime Minister Leo Varadkar in Kyiv, Ukraine, on July 19, 2023. Zelenksy thanked Varadkar for his support in the war with Russia hours after Russia unleased a missile attack on Odesa.  (Clodagh Kilcoyne/Pool via AP)
German Foreign Minister Annalena Baerbock tweeted that "Putin hasn't just blown up the Black Sea Grain Initiative; now he has hit the port city of Odesa with a hail of bombs for the second consecutive night."
The Ukrainian president's chief of staff, Andriy Yermak pleaded for more anti-aircraft systems.
Russian emergency officials in Crimea, meanwhile, said more than 2,200 people were evacuated from four villages because of a fire at a military facility.
The blaze forced the closure of an important highway, according to Sergey Aksyonov, the Moscow-appointed head of the peninsula. He didn't specify a cause for the fire at the facility in Kirovsky district.
He said the attacks were especially fierce in Odesa for a second consecutive night. The Ukrainian army's Operational Command South reported at least 12 civilians were wounded in the region.
The attacks on Odesa injured at least six people, including a 9-year-old boy, showering them with shattered glass and other debris. The remnants of a downed Kh-59 missile created a large crater in another part of the city, wounding three civilians and damaging several buildings.
Eight Iranian-made Shahed drones were also shot down in the wider Odesa region, where two warehouses containing tobacco and fireworks were reported damaged.
The death occurred in the northeastern Kharkiv region, near the volatile Kupyansk area, while 10 people were injured in the shelling of seven cities in the Donetsk region, including Avdiivka, Mariinka and Chasiv Yar. Two people were wounded by shelling in the Mykolaiv region and one person was injured in the Kherson region.
Russian drone attacks in the Zhytomyr region damaged some infrastructure and private homes, but no casualties were reported, said Gov. Vitalii Bunechko.
CLICK HERE TO GET THE FOX NEWS APP
Separately, South Africa's president announced that Putin will not attend an economic summit next month in the country, which faced a legal quandary over whether to arrest the Russian leader on an International Criminal Court warrant related to Ukraine.
Although Moscow has dismissed the warrant and Russia doesn't recognize the court's authority, Putin has not traveled to any country that is a signatory to the court's treaty since he was indicted by the ICC in March for war crimes relating to the abduction of children from Ukraine.
South African authorities had given strong hints they would have likely not executed the arrest warrant against Putin, but South Africa's main opposition party has taken the government to court to try to compel it to arrest the Russian leader if he sets foot on South African territory.