A nonprofit aligned with Senate Majority Leader Chuck Schumer has pulled in hundreds of millions of dollars from secret donors in recent years as the New York lawmaker decried dark money in politics, tax forms show.
Majority Forward, an advocacy group that conceals its contributors and has links to the Senate Majority PAC, has seen its war chest exponentially expand by nine figures over the past three years compared to its first three years in operation.
Between July 2019 and late June 2022, Majority Forward received $271.6 million in anonymous donations, according to a Fox News Digital review of tax forms. The nonprofit, launched in 2015, saw only $69 million in donations from June 2015 to May 2018.
The $200 million boost over the past three years compared to its first three years came as Schumer and other Democrats ramped up their attacks against Republican dark money operations. The skyrocketing cash also exemplifies Democrats' increased reliance upon a practice they consistently rail against.
ALEX SOROS HUDDLED WITH TOP DEMOCRATS SHORTLY AFTER TAKING OVER HIS FATHER'S NONPROFIT EMPIRE
JB Poersch, a long-time Schumer ally, is president of both Majority Forward and Senate Majority PAC. Both groups share office space and personnel, and Majority Forward has put hundreds of thousands toward the PAC for salaries, insurance and IT security, federal filings show.
Schumer, meanwhile, has publicly criticized dark money as Democrats have benefited from it. The Senate majority leader has advocated for legislation against the practice and urged right-leaning judicial groups to identify their backers.
The senators criticized the group for concealing "the identity of its donors" who "have contributed tens of millions of dollars used to fund political advertising campaigns in support of nominees like Brett Kavanaugh and Neil Gorsuch."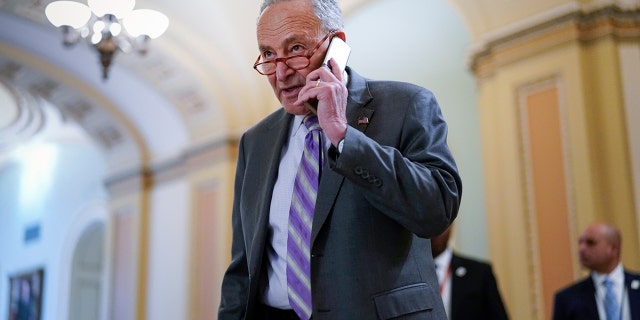 Majority Forward has poured large amounts of its secret cash into election activiity. (AP Photo/J. Scott Applewhite)
The lawmakers made the demand as they reaped the rewards from their own judicial dark money groups, including Demand Justice and the Alliance for Justice. Both groups have undertaken initiatives to influence President Joe Biden on judicial nominations, including with Supreme Court Justice Kentanji Brown Jackson.
Schumer has also regularly assailed dark money on his social media feeds.