A grassroots Second Amendment group plans to urge Congress to take bolder action on the Bureau of Alcohol, Tobacco, Firearms and Explosives' (ATF) rule banning pistol braces.
Gun of Owners of America plans to send a letter signed by a coalition of hunters to Congress on Tuesday, urging Republican leadership to overturn the rule issued in January and implemented this month.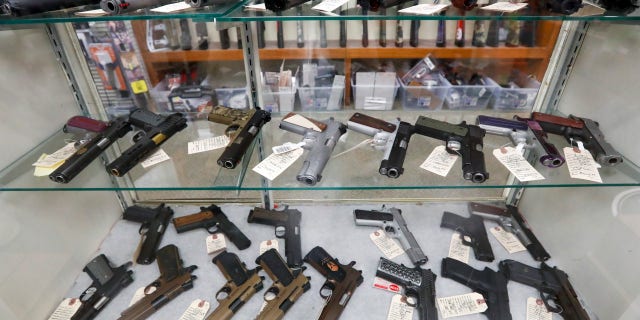 FILE: Semi-automatic handguns are displayed at shop in New Castle, Pa., March 25, 2020.  (AP Photo/Keith Srakocic )
Republican Reps. Andrew Clyde of Georgia and Richard Hudson of North Carolina introduced a resolution, H.J. Res. 44, in March to overturn the rule.
In a draft letter signed by 16,000 proponents and obtained by Fox News Digital, GOA will argue that braced pistols were "especially important in allowing elderly and/or disabled sportsmen and sportswomen to participate in the American hunting tradition."
President Biden has called the accessory "especially dangerous" after they were used in several mass shootings.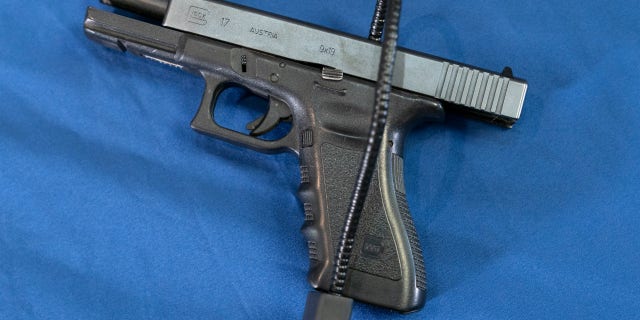 FILE: Displayed is a Glock 17 pistol fitted a with a cable style gun lock in Philadelphia, Wednesday, May 10, 2023.  (AP Photo/Matt Rourke, File)
GOA calls the ATF rule a "blatant ban on millions of otherwise legally owned firearms that elderly and disable Americans need and rely upon to hunt and participate in recreational shooting activities."
The group plans to raise concerns that the brace ban – on "a simple piece of plastic" – could potentially be used to justify bans on other firearms and accessories in the future.
GOA's planned letter comes after the White House said it would veto Republican-led efforts to overturn the rule should it reach President Biden's desk.
CLICK HERE TO GET THE FOX NEWS APP
"This Administration has no higher priority than keeping the American people safe, which is jeopardized with a vote in support of a resolution that makes it easier for mass shooters to obtain these deadly weapons," the White House said. "If H.J. Res. 44 were presented to the President, he would veto it."