Two young brothers in Texas were heroes to a tiny dog in a tough spot at an area pond (SEE the rescue in the video, above).
John Stanley, age 10, and Robbie Stanley, age 11, rescued a senior dog from the bushes in a pond near their home in San Antonio, Texas.
The brothers spotted the dog while they were out fishing and brought it to their mom's attention, news agency SWNS reported.
UTAH RESCUE DOG IS LOOKING FOR A NEW HOME: LEO WILL BE 'RIGHT BY YOUR SIDE'
Mom Allison Stanley, 32, knew immediately that the dog needed help.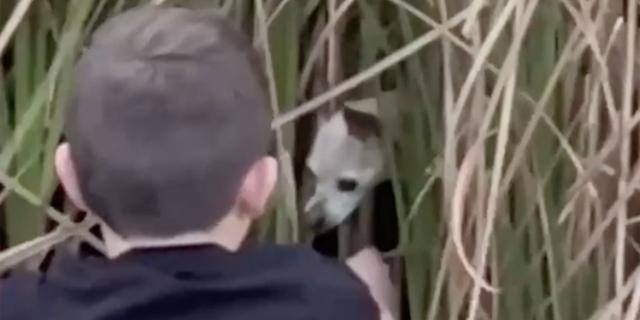 Robbie Stanley, 11, spotted a dog while he and his family were out fishing near his home.  (SWNS)
"I could clearly see she was old and blind and likely missing teeth, so I wasn't too worried about her biting him [Robbie]," she said about the dog.
There are no alligators or any dangerous creatures in the ponds, Stanley noted, so she wasn't worried about her son getting hurt.
TENNESSEE DOG RESCUED FROM CAVE AFTER FALLING OVER 50 FEET
Young Robbie waded through the water and grabbed the dog from the bushes on the other side of the waterway — using his mom's sweater just in case any bites might come his way from the little canine.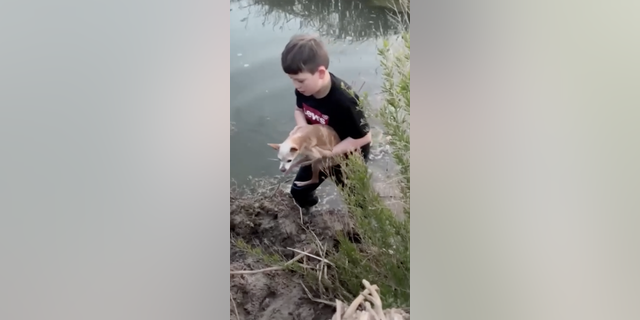 After rescuing the dog, the Stanley family took her home and began searching online for her owner.  (SWNS)
The dog came right to Robbie, according to SWNS.
After they got the dog out of the pond, Stanley said the family brought her home to get her warmed up, since the pond water was cold.
FLORIDA FAMILY REUNITES WITH DOG WHO SPENT 301 DAYS IN A TEXAS ANIMAL SHELTER
"We slowly warmed her with our body heat and warm towels," she told SWNS.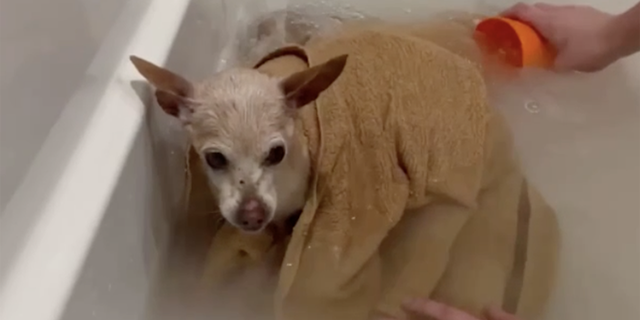 The little pooch received some food and a warm bath from her rescuers — and soon was reunited with her owner.   (SWNS)
At home, the family gave the dog a bath in the bathtub and some food to eat, as well.
CLICK HERE TO SIGN UP FOR OUR LIFESTYLE NEWSLETTER
Stanley then did some research online to see if she could find out anything about a potential owner of the dog, she said.
Within hours, the Stanleys discovered that the dog had been missing for more than 48 hours.
The family reunited her with her owners that very same night, according to SWNS.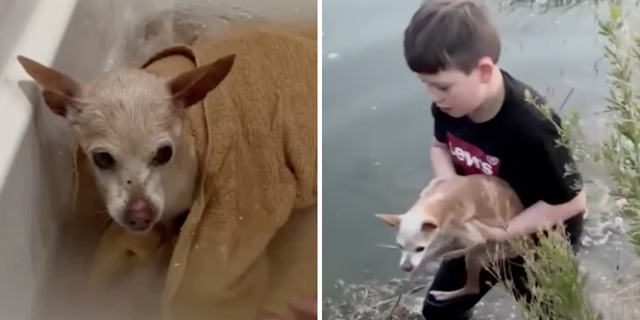 A family spotted a dog in the bushes that had been missing for 48 hours.  (SWNS)
The owners revealed to the Stanleys that the sweet pup was 19 years old.
CLICK HERE TO GET THE FOX NEWS APP
Stanley said her son Robbie got to be a hero that day — something "he deserved."