"The Chosen," the hit Biblical series about the life of Jesus Christ, is coming to The CW this summer.
The network announced Friday that it had picked up the first three seasons of "The Chosen", which will debut on July 16 at 8 p.m., according to Deadline. The Angel Studios show will continue airing through the fall until concluding its run with a Christmas Eve finale.
The CW is the first U.S. broadcast TV network to air "The Chosen," which was created by Dallas Jenkins and stars Jonathan Roumie as Jesus. The Christian historical drama started as a crowdfunded project that went on to become a worldwide hit with 110 million viewers in 175 countries.
""The Chosen is based on the biggest IP of all time and is truly a one-of-a-kind series that tells this historically significant story in a captivating, dramatic and premium way," The CW's President of Entertainment Brad Schwartz said in a statement to Deadline.
The fourth season of "The Chosen" is currently in production with a total of seven seasons planned. Last month, Lionsgate acquired the worldwide distribution rights for all seasons of the show. Angel Studios and Jenkins have plans to make "The Chosen" available globally in 600 different languages, per the Hollywood Reporter.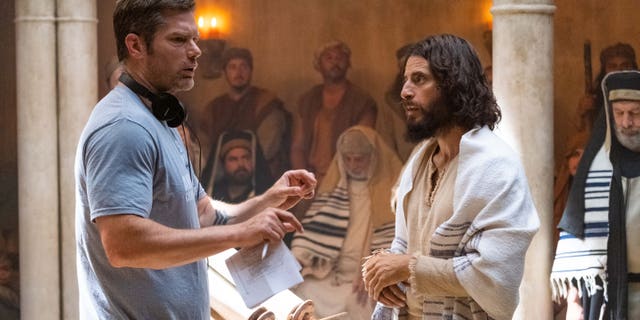 The crowdfunded show was created by Dallas Jenkins and stars Jonathan Roumie as Jesus (both pictured). (Courtesy of "The Chosen")
"Lionsgate is perfect for us," Jenkins said in a statement. "They're strong and experienced in the areas we're not, but they also understand what's unique about us and will protect that."
He continued, "We'll continue to do what we do best unabated, and they'll expand our efforts with their tremendous distribution team."
CLICK HERE TO GET THE FOX NEWS APP
The series incorporates drama and imagination into the stories and characters of the Bible, and tells the stories of Jesus while offering unique perspectives on well-known Biblical events and figures.
In 2019, "The Chosen" became the largest crowdfunded TV project in entertainment history after raising nearly $10.3 million in equity crowdfunding from 15,000 investors.