The co-hosts of ABC's "The View" all agreed that 89-year-old Sen. Dianne Feinstein, D-Calif., needs to step down from office because of her ailing health.
Co-host Sunny Hostin declared that it's time for the long serving Democratic lawmaker to put "country before herself" by resigning.
Feinstein recently returned to the U.S. Senate after taking several months off to deal with a shingles diagnosis. She returned in a wheelchair and in the last several days has reportedly forgotten that she had been absent, allegedly telling reporters she's been here the whole time.
SEN. FEINSTEIN ARRIVES AT CAPITOL IN WHEELCHAIR IN FIRST PHOTOS FOLLOWING HER NEARLY THREE-MONTH ABSENCE
"It's terrible because she has been such an effective Senator for over what? Six decades? Or six terms rather. I think that it's very difficult for someone to step away from work that they love. She's 89-years-old, she said that she's not going to resign and she did ask the Republican Party – or the Democrats asked the Republican Party to allow her a temporary replacement while she heals. They've refused to do that," Hostin said.
FORMER OBAMA SPEECH WRITER CALLS ON DIANNE FEINSTEIN TO RESIGN: 'SHOULD NOT BE IN THE SENATE'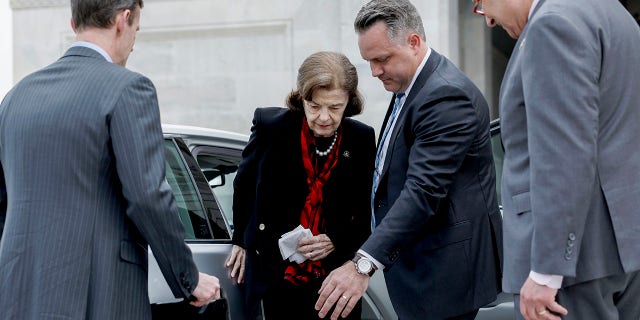 WASHINGTON, DC – MAY 10: U.S. Sen. Dianne Feinstein (D-CA) exits from her as she returns to the U.S. Capitol Building on May 10, 2023 in Washington, DC. Feinstein is returning to Washington after over two months away following a hospitalization due to shingles. (Anna Moneymaker/Getty Images)
Hostin then mentioned how it "pained" her to see the condition Feinstein was in upon returning to work, adding, "I think now perhaps – and I would never say this other than because of what we've seen and because she has voted three times to confirm three judicial appointees – but I still think that maybe it's time for her to put the country before herself."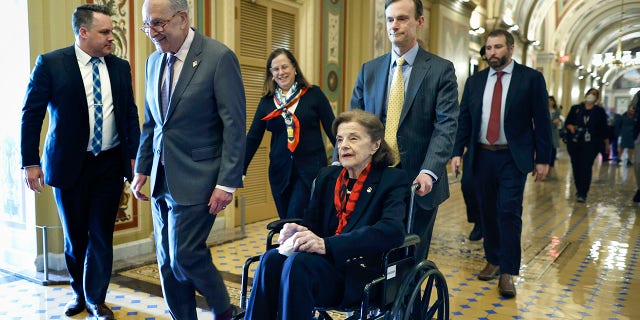 WASHINGTON, DC – MAY 10: U.S. Senate Majority Leader Charles Schumer (D-NY) escorts Sen. Dianne Feinstein (D-CA) as she arrives at the U.S. Capitol following a long absence due to health issues on May 10, 2023 in Washington, DC. Feinstein was fighting a case of shingles and has been absent from the Senate for almost three months.  (Kevin Dietsch/Getty Images)
Co-host Alyssa Farah Griffin agreed, saying, "I do think it's time for her to resign." She made sure to praise Feinstein's "incredible legacy on the left," but noted that the lawmaker has missed "91 floor votes" since she's been absent, and "already missed two since she's been back."
CLICK HERE TO GET THE FOX NEWS APP
Joy Behar, who introduced the discussion, clarified that it wouldn't matter if Feinstein leaves office anyway, because the only ones vying to replace her are fellow Democrats who will vote for the party's interests.