Mary Jo Kopechne, 28 years old and a respected political operative, was found dead in the overturned car of Sen. Ted Kennedy, D-Mass., in a tidal pond near Chappaquiddick Island on this day in history, July 19, 1969.
Known as the "Chappaquiddick incident," the drowning death of Kopechne and the chain of events before and after the tragedy became a national scandal for the young senator from Massachusetts — and "derailed Ted Kennedy's presidential ambitions for good," noted the History Channel.
What actually happened that night is unclear, for a multitude of reasons.
ON THIS DAY IN HISTORY, JULY 18, 1976, NADIA COMENICI SCORES PERFECT 10 AT SUMMER OLYMPICS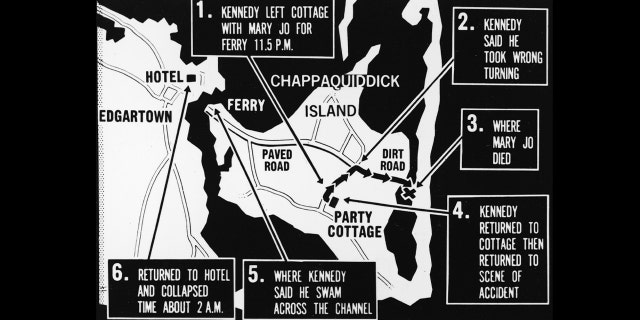 This map details the locations and times of the events of the night of July 18, 1969. (Getty Images)
Kennedy claimed that he attempted to free Kopechne from the car multiple times before giving up due to exhaustion — and that he did not call the police as he was mildly concussed and in a state of shock.
The senator said the gathering was "a cook-out I had encouraged and help sponsor for a devoted group of [Robert] Kennedy campaign secretaries."
ON THIS DAY IN HISTORY, MAY 19, 1994, JACQUELINE KENNEDY ONASSIS, WORLDWIDE STYLE ICON, PASSES AWAY IN NYC
"For this reason, and because she was such a gentle, kind and idealistic person, all of us tried to help her feel that she still had a home with the Kennedy family."
Kennedy denied the "widely circulated suspicions of immoral conduct that have been leveled at my behavior and hers regarding that evening," and said that he was not "driving under the influence of liquor."
"Their strenuous efforts, undertaken at some risk to their own lives, also proved futile," he said.
Kennedy further acknowledged that there were calls for his resignation from the Senate.
He was first elected to the Senate in a special election in 1962, serving the remainder of his brother's term after John F. Kennedy was elected president.
Kennedy did not resign.
He went on to represent the Commonwealth of Massachusetts in the Senate until his death in 2009 at age 77.
ON THIS DAY IN HISTORY, NOV. 22, 1963, JOHN F. KENNEDY, 35TH PRESIDENT, IS ASSASSINATED
In an August 1969 interview with TIME Magazine, Mary Jo Kopechne's parents expressed frustration at how their daughter's death was handled.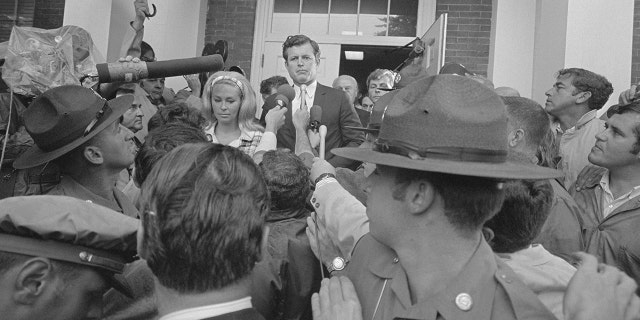 Sen. Edward M. Kennedy and his wife Joan are seen here at the start of the inquest into the death of Mary Jo Kopechne in July 1969.  (Getty Images)
"There are two sides here," Mrs. Kopechne told the magazine.
"Mr. Kopechne and I on this side and the Kennedy name on the other. Everybody is on that side."
The 2018 film "Chappaquiddick" earned rave reviews for its retelling of the long-discussed and debated story.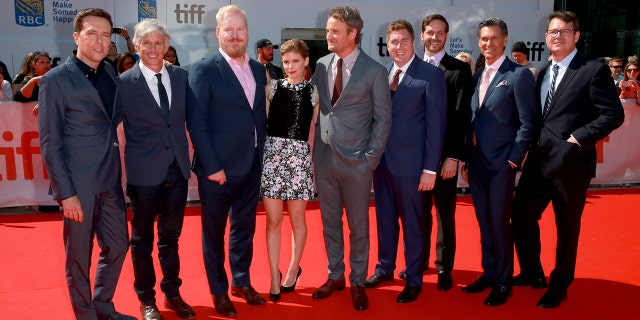 Members of the cast and crew of "Chappaquiddick," a 2018 film about the death of Mary Jo Kopechne. Actor Jason Clarke, fifth from left, portrayed Sen. Ted Kennedy. Actress Kate Mara (center) portrayed Kopechne.  (Rich Fury/Getty Images)
In the film, actor Jason Clarke played Kennedy, while actress Kate Mara played Kopechne.
CLICK HERE TO GET THE FOX NEWS APP