The sale of diesel-powered trucks is on track to be banned in California starting in 2036 following the passage of new regulations in the state.
The California Air Resources Board (CARB) voted in favor of the rule on Friday, and it now waits for EPA approval to be put into effect.
It's part of the state's Advanced Clean Fleets program, which aims to make its entire trucking industry zero emissions by 2045.
But that doesn't mean every truck will be battery-powered.
HOT CAR: TOYOTA BUILT A HYDROGEN-POWERED CLASSIC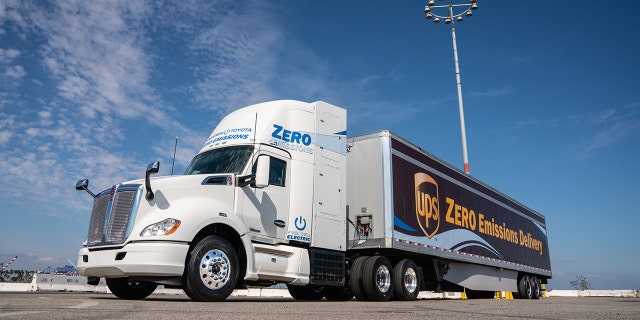 Toyota has been testing hydrogen-powered trucks in California for several years. (Toyota)
Fuel cells that use a catalyst that generates electricity through the combination of hydrogen stored in tanks with atmospheric oxygen also qualify, as the only byproduct is water vapor.
Fuel cell powertrains use smaller batteries than plug-in electric trucks and their hydrogen tanks can be filled to capacity quicker than recharging a battery.
The Tesla Semi, for instance, needs 30 minutes to fast charge to just 70% of the battery's capacity, which requires a special 1,000-volt MegaCharger station. Charging speeds slow down after that to protect the pack from damage.
The tanks for a fuel cell truck can be filled in as little as 15 minutes, which is closer to how long a typical stop for a diesel powered long-haul truck takes, and technology is being developed to get the time under 10 minutes.
Several truckmakers, including Volvo, Freightliner and Nikola are developing fuel cell-powered trucks, but now Toyota has a way for anyone to build hydrogen-powered rigs.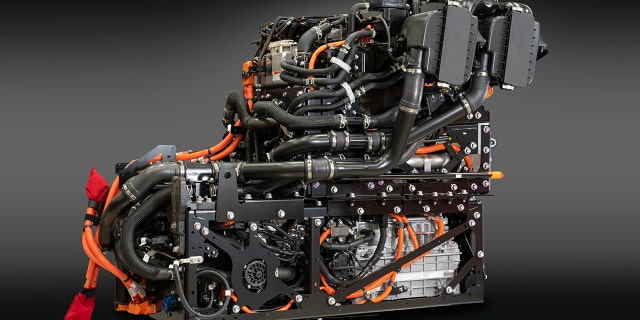 Toyota's fuel cell kit can be installed in a variety of diesel-powered Semi platforms. (Toyota)
Toyota, which owns the Hino heavy truck brand, has been testing fuel cell semis in California since 2017, including several modified Kenworth tractors used for hauling goods in the Los Angeles and Long Beach area. It has now received approval from CARB to start selling a fuel cell kit that it will put into production in Kentucky later this year.
CLICK HERE TO SIGN UP FOR THE FOX NEWS AUTOS NEWSLETTER
"We believe hydrogen will play a significant role in the emissions reduction of heavy-duty transport while not sacrificing the distance, power, or fueling times needed to keep these fleet and individual operators running," said Chris Rovik, executive program manager, advanced mobility, Toyota Motor North America.
"Fuel cell technology is scalable, and we believe it will take an increasingly visible and important role in our collective fight to reduce and eliminate carbon as we move towards a hydrogen society."
A big hurdle to hydrogen adoption is the lack of a fueling infrastructure, but fleet operators can set up their own system at truck depots.
CLICK HERE TO GET THE FOX NEWS APP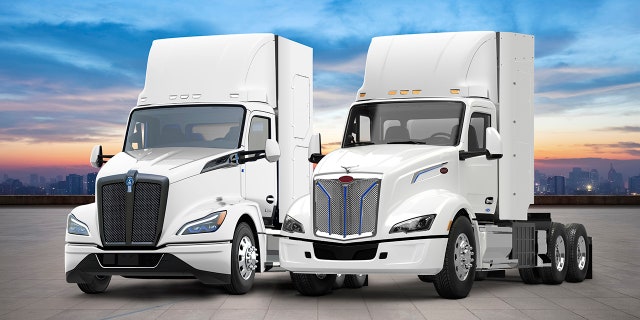 PACCAR will begin sales of Kenworth and Peterbilt models using Toyota's tech next year. (Toyota)
Final specifications and pricing have not been announced, but truck builder PACCAR announced on Tuesday that it will begin manufacturing Kenworth T680 and Peterbilt 579 tractors using the technology starting in 2024.