Early results for the closely watched presidential election in Turkey show that support for President Recep Tayyip Erdogan dipped below the majority required to win, signaling a likely runoff later this month.
With more than 90% of ballot boxes counted Sunday, Erdogan had just under 50% of the vote, according to the state-run Anadolu Agency. His main challenger, opposition leader Kemal Kilicdaroglu, had 44.4% as the gap between the two shrank. The Wall Street Journal reports they appear to be headed for a runoff and both have declared they're ready for it.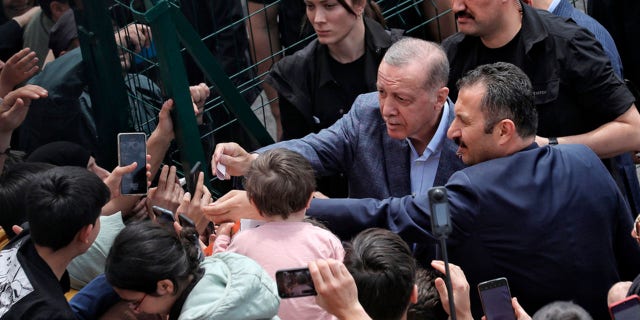 Turkey's President Recep Tayyip Erdogan with supporters at a polling station, in Istanbul, Turkey, Sunday, May 14, 2023. (DHA via AP)
Complicating the picture further, both sides have accused Anadolu Agency of manipulating the figures. Members of Kilicdaroglu's center-left, pro-secular Republican People's Party, or CHP, have contended that the state-run agency was biased in Erodgan's favor.
"We are ahead," tweeted Kilicdaroglu, 74, who ran as the candidate of a six-party opposition alliance.
SERBS MARCH ON BELGRADE IN DROVES AFTER BACK-TO-BACK MASS SHOOTINGS
Meanwhile, Erdogan's Justice and Development Party, has accused the opposition of "an attempt to assassinate the national will" by claiming the state news agency was distorting the results. He called the opposition claims "irresponsible."
If neither candidate secures more than 50%, the two will compete in a run-off vote on May 28.
An increasingly authoritarian ruler, Erdogan, 69, has governed Turkey as either prime minister or president for two decades.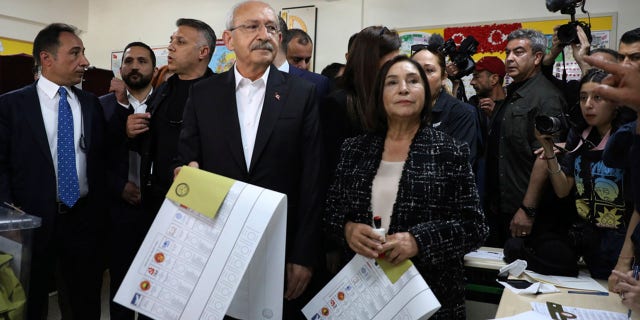 Kemal Kilicdaroglu, the 74-year-old leader of the center-left, pro-secular Republican People's Party, or CHP, and presidential candidate of Turkey's main opposition alliance, and his wife Selvi Kilicdaroglu, vote at a polling station in Ankara, Turkey, Sunday, May 14, 2023.  (AP Photo/Ali Unal)
The presidential race has centered on domestic issues such as the economy, civil rights and a February earthquake that killed more than 50,000 people. Erdogan's administration has faced sharp criticism over its handling of the earthquake, exacerbated by a lax implementation of building codes.
While Erdogan hoped to win a five-year term that would take him well into his third decade as Turkey's leader, Kilicdaroglu campaigned on a promise to return the country to a more democratic path and to repair its economy, battered by high inflation and currency devaluation.
More than 64 million people, including 3.4 million overseas voters, were eligible to vote. This year marks 100 years since Turkey's establishment as a republic — a modern, secular state born on the ashes of the Ottoman Empire.
CLICK HERE TO GET THE FOX NEWS APP
Kilicdaroglu's Nation Alliance pledged to return Turkey's governance system to a parliamentary democracy if it won both the presidential and parliamentary ballots. It also promised to restore the independence of the judiciary and the central bank, and to reverse crackdowns on free speech and other forms of democratic backsliding in Turkey.
The Associated Press contributed to this report.