Russia couldn't escape its war against Ukraine during its highly contentious presidency of the U.N. Security Council, and the war will still loom over Switzerland as it takes over the monthlong presidency Monday for the first time since becoming a full member of the United Nations in 2002.
Switzerland's U.N. Ambassador Pascale Baeriswyl said at the traditional opening press conference that her country's approach has been to work for unity of the council's 15 members and to be "a bridge builder." She conceded, nonetheless, that she expects "some heated or polarized discussions."
Fireworks are almost certain during Switzerland's signature events, starting Wednesday with a session on how to ensure trust to sustain peace in the future and another on May 23 on protecting civilians in armed conflict.
The council is also highly likely to hold a meeting on the humanitarian situation in Ukraine, she said, which is certain to pit Moscow against Kyiv's allies.
"We will try to conduct tho (open) meetings in a calm way," Baeriswyl said. "When it comes to closed consultations, I may be asking in a little more active way council members to really stay respectful with each other."
BIDEN'S FUNDING FOR UN GREEN ENERGY PROJECTS FACES REPUBLICAN ROADBLOCK
Russia started its presidency by giving the spotlight to its commissioner of children's rights, who is accused with President Vladimir Putin of war crimes for deporting Ukrainian children to Russia. Then, it went after the West by claiming it is violating international laws by arming Ukraine.
At its premiere event last week, Russian Foreign Minister Sergey Lavrov defended his country's military action and accused the U.S. and its allies of undercutting global diplomacy — the foundation of the United Nations ,which was created to prevent a third world war.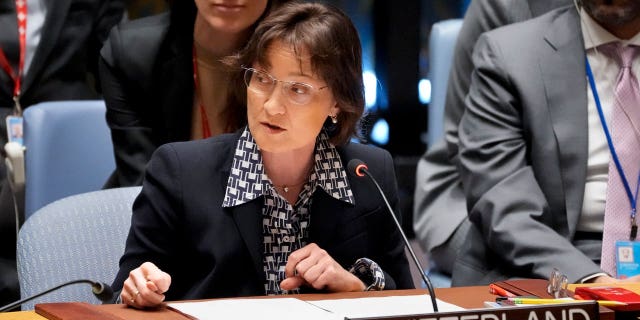 Pascale Christine Baeriswyl, ambassador of Switzerland to the United Nations, speaks during a meeting of the U.N. Security Council, on April 24, 2023, at United Nations headquarters. (AP Photo/John Minchillo)
Envoys from the U.S. and several allies responded to the video briefing by Maria Lvova-Belova, the Russian children's rights commissioner, by walking out of the council chamber. Russian Ambassador Vassily Nebenzia's accusations about arming Ukraine drew a blistering response that Ukraine has every right to defend itself against Putin's invading army.
And U.N. Secretary-General Antonio Guterres and Western envoys berated Lavrov for violating the U.N. Charter by attacking Ukraine and occupying part of its territory.
Switzerland Ambassador Baeriswyl was among those who accused Russia of violating the U.N. Charter, saying Ukraine's "state sovereignty, territorial integrity and the prohibition of the use of force continue to be flouted by the military aggression of a permanent member of the Security Council against its neighbor."
CLICK HERE TO GET THE FOX NEWS APP
The presidency of the Security Council, the U.N.'s most powerful body charged with maintaining international peace and security, rotates monthly in alphabetical order of its 15 members.
John Bolton, a former U.S. ambassador to the United Nations and national security adviser to former President Donald Trump, said Russia's presidency shows the "dysfunctional nature" of the Security Council, which has been paralyzed over Ukraine since Putin's February 2022 invasion of its smaller neighbor. He said the same holds true during China's council presidency.
"Obviously, they're not going to permit any serious discussion of some of the real security crises around the world, and even if they did permit the discussion, they would block the council from doing anything through the veto," he said in a phone interview with AP.
Bolton said "it's unfortunate but ironic to say the least" that the promise at the end of the Cold War in 1990-1991 that the Security Council could really be effective and address global crises after decades of paralysis because of the veto power of the United States and the Soviet Union has ended, alluding to the ongoing paralysis over Ukraine and other hotspots because of Russia's veto.