The United States announced at a U.N. conference on Wednesday nearly $524 million in additional humanitarian aid for the Horn of Africa that aims to put a spotlight on the extreme effects of climate change and the worst drought in the region in 40 years — and the need for more than $5 billion.
The U.N. has appealed for $7 billion and has received just $1.6 billion — far from enough to help the 43.3 million people in need of assistance in Somalia, Ethiopia and Kenya or even just the 21 million among them who don't have access to enough food.
The United States is the largest provider of humanitarian aid to the region, and Linda Thomas-Greenfield, the U.S. ambassador to the United Nations, told the pledging conference that the $524 million in new funds will bring the total U.S. humanitarian contribution to the region to $1.4 billion for the fiscal year ending Sept. 30.
When Thomas-Greenfield visited the Somali capital, Mogadishu, in September, she said she heard firsthand "how the drought impacted the food supply and the increased potential for famine" and announced more than $40 million in additional funding for the country.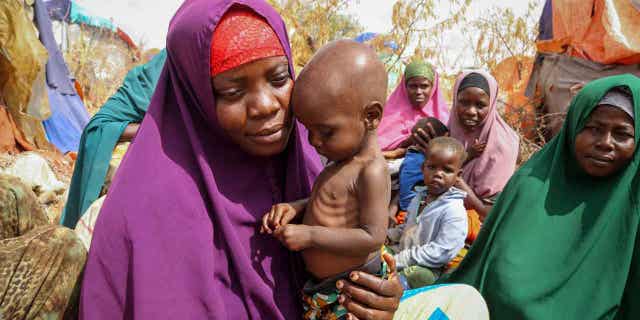 Nunay Mohamed, 25, who fled the Lower Shabelle area, holds her one-year old malnourished child at a makeshift camp for the displaced on the outskirts of Mogadishu, Somalia, on June 30, 2022. (AP Photo/Farah Abdi Warsameh, File)
The humanitarian agency CARE said the crisis in the region resulting from two failed rainy seasons, two locust invasions, conflict and rising commodity prices in the wake of Russia's invasion of Ukraine and the ongoing war has decimated communities and led to the migration of more than 2.5 million people. Raising livestock used to be a key way of earning money for many communities in the region, but CARE said due to the extreme weather more than 13.2 million livestock have died.
In Somalia, where more than 6 million people are going hungry, a famine has yet to be declared, but some humanitarian and climate officials have warned that current trends are worse than in the 2011 famine, in which 250,000 people died.
AFRICA'S SAHEL REGION SEEKS AID TO FIGHT VIOLENT EXTREMISM, STOP ITS SPREAD
But the U.N. and USAID, the U.S. aid agency, announced earlier this month that they were suspending all food assistance to investigate the theft of humanitarian supplies.
CLICK HERE TO GET THE FOX NEWS APP
The International Rescue Committee's president, David Miliband, said U.S. funding "is helping keep famine at bay," especially in Somalia, and urged other nations to step up contributions and ensure full funding of the appeal.