The U.S. Embassy in Islamabad, Pakistan, on Wednesday issued a security alert canceling all consular meetings through the end of the week as protests over the arrest of former Prime Minister Imran Khan have turned violent.
The alert came as video footage showed police and protesters alike dodging objects flying through the air while tear gas filled the streets as Khan appeared for a hearing.
The embassy, which warned citizens in Pakistan to be aware of possible internet outages and travel restrictions, said it would remain "open and available for emergency services."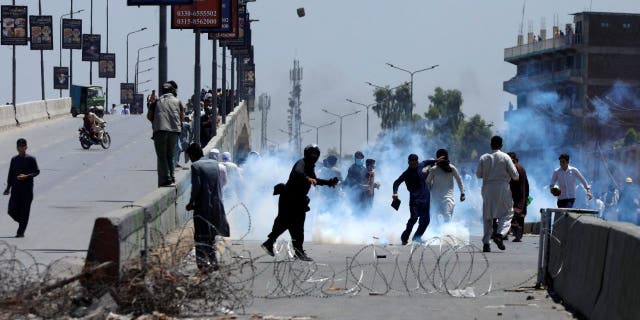 Supporters of former Pakistan Prime Minister Imran Khan throw stones toward police during a protest against Khan's arrest, in Peshawar, Pakistan, May 10, 2023. (Reuters/Fayaz Aziz)
FORMER PAKISTAN PRIME MINISTER IMRAN KHAN ARRESTED ON CORRUPTION CHARGES BY POLICE
"The U.S. Embassy has temporarily restricted movements of Embassy personnel to official and mission-essential travel only, given potential road closures and associated traffic delays," it added. "The U.S. Embassy strongly encourages U.S. citizens to avoid large gatherings, unnecessary travel, and remain vigilant of their surroundings."
Protests turned violent Wednesday in the capital city outside a police facility in Islamabad where Khan was held and where his hearing took place over charges relating to corruption.
Protests are expected to continue following the judge's Wednesday ruling that said Khan can be held by authorities for eight days.
Pakistani police have arrested hundreds of Khan supporters after demonstrations turned violent following his arrest Tuesday.
Khan's Pakistan Tehreek-e-Insaf (PTI) party called on its supporters this week to "shut down Pakistan" in a show of opposition after he was dramatically arrested by dozens of armed men from Pakistan's National Accountability Bureau clad in riot gear.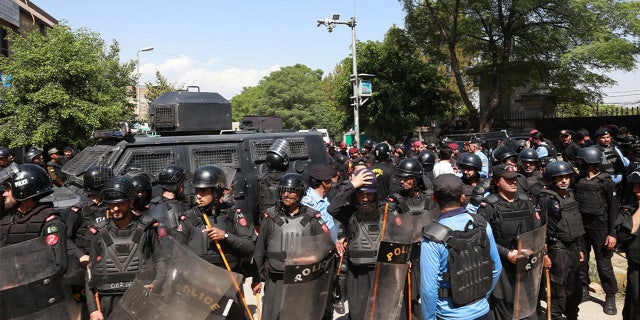 Pakistani security forces are seen outside the Islamabad High Court where former Prime Minister Imran Khan was due to appear on May 9, 2023. (Muhammad Reza/Anadolu Agency via Getty Images)
FORMER PAKISTANI PRIME MINISTER IMRAN KHAN RALLIES THOUSANDS OF SUPPORTERS DESPITE ARREST WARRANTS
The seemingly exuberant arrest measures were an effort to block potential unrest, which had broken out during previous arrest attempts between police forces and Khan's supporters.
But Khan's arrest comes at a precarious time for Pakistan as political tensions have not only remained heightened since he was removed from office in April 2022 through a vote of no confidence, but as the country continues to reel from an economic crisis.
Inflation in Pakistan has surged to 36% and a more than $1 billion foreign bailout package from the International Monetary Fund has been delayed for months over technical issues relating to the framework of the policy.
Mobile data services and access to social media sites like Facebook, YouTube and Twitter have been disrupted as security services looked to tamp down the unrest after at least one person was killed late Tuesday.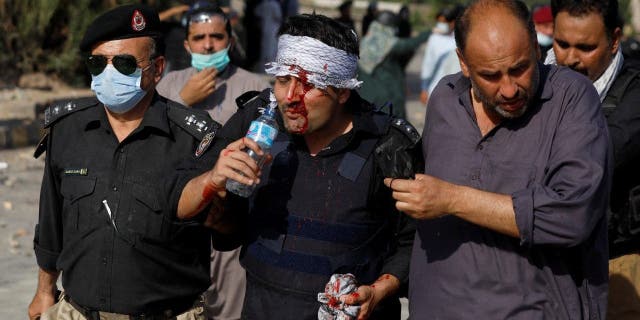 SENSITIVE MATERIAL. THIS IMAGE MAY OFFEND OR DISTURB A police officer, who was injured during clashes with the supporters of former Prime Minister Imran Khan, drinks water as he leaves the protest site in Peshawar, Pakistan, May 10, 2023. (Reuters/Fayaz Aziz)
CLICK HERE TO GET THE FOX NEWS APP
Some 945 Khan supporters have been arrested in the Punjab province alone after 25 police vehicles and at least 14 government buildings were set on fire, according to police officials.
"This can't be tolerated, the law will take its course," Planning Minister Ahsan Iqbal said during a news conference. "These violent attacks were not the outcome of any public outpouring, they were planned by the PTI rank and file."
Reuters contributed to this report.