Maternal deaths across the U.S. more than doubled over the course of two decades, and the tragedy unfolded unequally.
Black mothers died at the nation's highest rates, while the largest increases in deaths were found in American Indian and Native Alaskan mothers. And some states — and racial or ethnic groups within them – fared worse than others.
The findings were laid out in a new study published Monday in the Journal of the American Medical Association. Researchers looked at maternal deaths between 1999 and 2019 — but not the pandemic spike — for every state and five racial and ethnic groups.
"It's a call to action to all of us to understand the root causes — to understand that some of it is about health care and access to health care, but a lot of it is about structural racism and the policies and procedures and things that we have in place that may keep people from being healthy," said Dr. Allison Bryant, one of the study's authors and a senior medical director for health equity at Mass General Brigham.
Overall, they found rampant, widening disparities. The study showed high rates of maternal mortality aren't confined to the South but also extend to regions like the Midwest and states such as Wyoming and Montana, which had high rates for multiple racial and ethnic groups in 2019.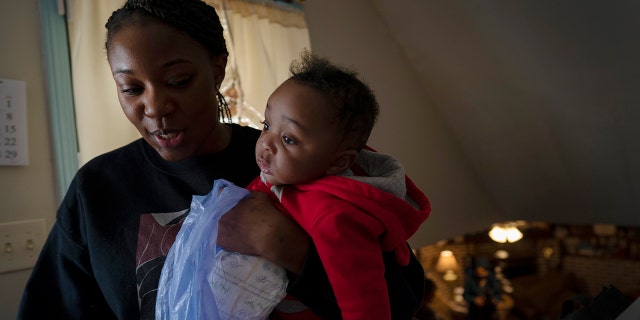 Ansonia Lyons carries her son, Adrien Lyons, as she takes him for a diaper change in Birmingham, Alabama, on Feb. 5, 2022. After two miscarriages, Ansonia had a child in 2020. (AP Photo/Wong Maye-E, File)
Researchers also found dramatic jumps when they compared maternal mortality in the first decade of the study to the second, and identified the five states with the largest increases between those decades. Those increases exceeded:
— 162% for American Indian and Alaska Native mothers in Florida, Illinois, Kansas, Rhode Island and Wisconsin;
— 83% for Asian and Pacific Islander mothers in Georgia, Illinois, Kansas, Michigan and Missouri.
"I hate to say it, but I was not surprised by the findings. We've certainly seen enough anecdotal evidence in a single state or a group of states to suggest that maternal mortality is rising," said Dr. Karen Joynt Maddox, a health services and policy researcher at Washington University School of Medicine in St. Louis who wasn't involved in the study. "It's certainly alarming, and just more evidence we have got to figure out what's going on and try to find ways to do something about this."
WOMEN MORE LIKELY TO SUFFER FROM 'LONG COVID,' BUT HEALTHY HABITS CAN LOWER THE RISK
Rates among Black women have long been the worst in the nation, and the problem affects people of all socioeconomic backgrounds. For example, U.S. Olympic champion sprinter Tori Bowie, 32, died from complications of childbirth in May.
The pandemic likely exacerbated all of the demographic and geographic trends, Bryant said, and "that's absolutely an area for future study." According to preliminary federal data, maternal mortality fell in 2022 after rising to a six-decade high in 2021 — a spike experts attributed mainly to COVID-19. Officials said the final 2022 rate is on track to get close to the pre-pandemic level, which was still the highest in decades.
Bryant said it's crucial to understand more about these disparities to help focus on community-based solutions and understand what resources are needed to tackle the problem.
"Most of the deaths we reviewed and other places have reviewed … were preventable," Greenfield said.