A Gen Z activist who describes himself as "the last Republican in San Francisco" said he's a "victim of corrupt, far-left Democrats" running the city.
"It seems as if local leaders and local news are working together to kind of just sweep this under the rug and pretend as if everything is fine and dandy when, in all actuality, thousands of people are dying from fentanyl," Darren Mark Stallcup told Fox News.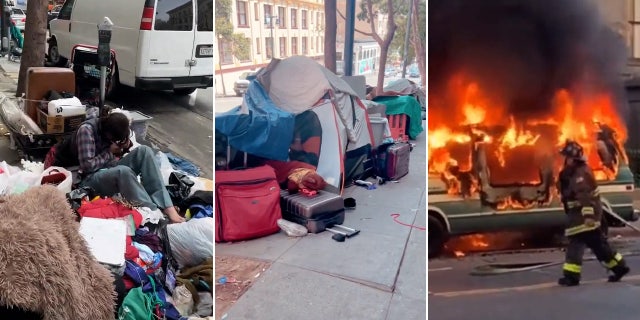 Darren Mark Stallcup shares videos of what he calls the "fentanyl genocide" in San Francisco. (Screenshots courtesy Darren Mark Stallcup)
PAID TO FAIL? SAN DIEGO BUSINESS OWNER CRITICIZES COSTLY PLAN TO BUY HOTELS TO HOUSE HOMELESS, 'HUGE FAILURE'
The 26-year-old Bay Area native documents tent-lined streets, people appearing to overdose or behave erratically under the influence of drugs, violent altercations and crime in San Francisco through Twitter videos. Several months ago, the drug crisis became personal for Stallcup, when he says his cousin Scottie overdosed on fentanyl-laced marijuana.
San Francisco recorded 647 drug overdose deaths in 2022 and is on pace to surpass that figure this year. While violent crime remains low compared to other major cities, some property crimes like larceny — a category that encompasses shoplifting and other theft — have surged in the past couple of years, according to police data.
"I have had several people reach out to me over social media and say, 'Who cares what's happening in San Francisco? We voted for this,'" Stallcup said.
"I did not vote for this," he continued. "I'm a conservative. I care about women and children, law and order, the safety of our community."
"Local voters and tourists alike are surprised that these drug dealers who are this source of distribution and sales of all the drugs are still here," community activist Richie Greenberg told Fox News. "I am disappointed in what the leadership in San Francisco is failing to do to rein in crime."
Breed's emergency management department recently confirmed a pilot program allowing state law enforcement to remove people using drugs who are a danger to themselves or others from the streets. Critics denounced the plan as essentially arresting drug users, but the mayor said San Francisco residents and workers deserve better than the status quo.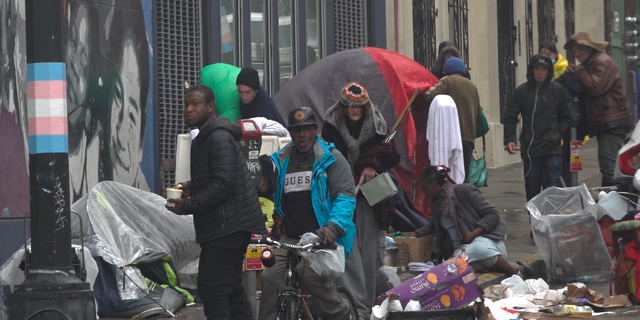 Tents line the sidewalk of a San Francisco street. In 2022, more than 4,000 people were homeless and unsheltered in San Francisco, according to the city.  (Fox News Digital/Jon Michael Raasch)
CLICK HERE TO GET THE FOX NEWS APP