A bipartisan panel of voters addressed key issues motivating them to cast their ballot in the 2024 election cycle – among them crime and artificial intelligence, but one controversial topic ignited a heated exchange between panelists.
Madeline Brame, a conservative voter whose veteran son was murdered in New York City in 2018, addressed why she thinks a majority of Black voters cast their ballots for Democrats despite claims that Republicans resonate with Black voters more on conservative values.
"I think because we have been bamboozled, we've been hoodwinked, and we've been led astray to believe that… conservative or Republican[s] or are racist… when in all actuality, they stand more in line with our values than the Democrats do, but we vote for them because that's what we've been conditioned to do," Brame told 'Fox & Friends Weekend' co-host Will Cain on Sunday.
DEMOCRATIC LAWMAKERS CAUGHT ON HOT MIC MOCKING PARENTAL RIGHTS AS 'GARBAGE,' 'STUPID'
"We need to put more in place to decrease those mass shootings. That's one of many reasons I'm riding with Biden. 696,000 more manufacturing jobs. Not everybody can be a doctor, Will," she continued. "So I'm really thrilled with that."
Brame quickly interjected, calling out abortion as the "complete genocide" targeting unborn Black children.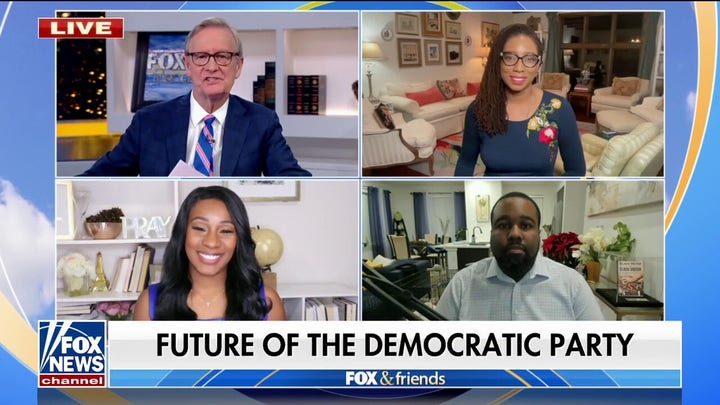 Video
"Why would anybody in their right mind… continue to fight and support abortion, a fight to support the complete genocide of the Black baby in the womb through abortion, because Black women are the ones that have the most abortions in this country?" Brame asked. "Why are we standing up and fighting for that?"
"We're only 13% of the population," Dr. Downie immediately objected. "That is not true. There are more White women than Black women that have abortions in this country… and it's a woman's right to choose."
"Disproportionate amount of Black women aborting Black babies in the womb," Brame quipped in response.
CLICK HERE TO GET THE FOX NEWS APP
These figures starkly contrast with his first few months in office, when 9 out of 10 Black voters approved of the job he was doing.
They also fall well below Democrats' overall sentiment, which showed that 81 percent would "definitely" or "probably" support Biden if he were the nominee.
Fox News' Joe Schoffstall contributed to this report.