The Russian Warlord who is commanding the Wagner mercenary squad known for its extreme brutality, Yevgeny Prigozhin has been making headlines across Russian and world media. He has criticized the Russian state's ability to protect the country and warned Putin not to trust his top generals on Ukraine, creating a major rift between regular Russian army and his fighters, most of whom are former convicts. Prigozhin recently has hinted about his intention to become a contender in the Russian 2024 presidential election.
But can this former hotdog salesman and convicted criminal really become the next president and commander-in-chief of the world's largest nuclear power? My assessment is that it is a possibility.
On February 1st, Russia's state news agency, Interfax, carried a piece titled "Yevgeny Prigozhin, for the first time, joined the list of top ten media personalities, based on January polls." The article stated that Russian President Vladimir Putin remained the top person mentioned in the Russian media, having received "218,374 links" in the Russian press. It also claimed that Prigozhin "entered" the top ten list, having received 22,524 links. Ukraine's President, Volodymyr Zelenskyy, held the second place, followed by Putin's press secretary Dmitry Peskov who was third. President Biden was fourth. While several other top personalities in Putin's regime remained on the list, Russian Defense Minister Sergei Shoigu dropped off the top 10.
PUTIN WILL RELY ON HIS PERSONAL CHEF AND WAGNER GROUP HEAD TO MANAGE THE NEXT PHASE OF WAR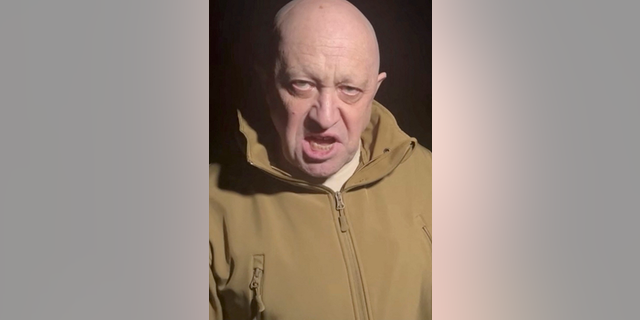 Founder of Wagner private mercenary group Yevgeny Prigozhin. (Press service of "Concord"/Handout via Reuters)
WAGNER GROUP WARLORD RECORDS PROFANITY-LACED RANT DIRECTED AT 'SCUMBAG' RUSSIAN MILITARY LEADERS
"I make my way to the fighter, and I can communicate with him … I like all that, it is risk and it is good when you control the situation." He touted his lack of fear of war and of being killed. "At the end of the day, we all are walking under God." He claimed that the lives of generals and ordinary soldiers are equal. "How is the life of a army general worth more than the life of a fighter? What is the difference? A fighter also has a mother, children. Is his life trash and the army general's life isn't? Is it that he [general] has more thoughts in his head? Maybe the fighter has twice as many thoughts than the general?" Prigozhin praised his fighters as "first-rate lads" and rejected the idea that they should be looked at only as "meat" for the meatgrinder.
Prigozhin suggested that he is suited for the role of a wartime commander much more than a uniformed bureaucrat from the military establishment does. He bragged about applying the same fast decision-making and problem-solving practices that "any business structure" does, touting his vast business experience. Prigozhin also implied that his lack of fear of war is due to his criminal background. Born in 1961, Prigozhin committed his first crime, theft, at 18, and two-years later he was sentenced to 13 years in a high-security prison camp for fraud, theft and robbery. "It's important for people to understand that war is serious work." Using profanity, he accused the establishment commanders of being engaged in "child's play" instead of war.
Without the Russian government's consent, RIA Novosti and Russia Today, which is Putin's pet media project whose primary mission is to favorably predispose audiences to the Kremlin's agenda, would have never given this platform to Prigozhin.
Although Putin publicly denies friendship with Prigozhin, their relationship spans at least two decades. The two have a lot in common, having grown up in very tough conditions in St. Petersburg, becoming troubled youths. And Prigozhin has earned Putin's trust. Putin, who trusts almost no one, has allowed Prigozhin to serve him food and drink, as the latter owns a massive catering business that serves the Kremlin. In a country that has elevated poisonings of the regime's opponents to a form of statecraft, letting a former convict serve you meals reveals the highest level of trust.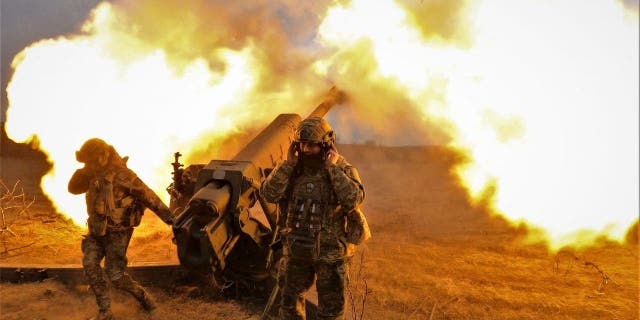 Ukrainian servicemen fire with a D-30 howitzer at Russian positions near Bakhmut, eastern Ukraine, on March 21, 2023, amid the Russian invasion of Ukraine. (Photo by Sergey SHESTAK / AFP) (Photo by SERGEY SHESTAK/AFP via Getty Images) (Photo by SERGEY SHESTAK/AFP via Getty Images)
CLICK HERE TO GET THE FOX NEWS APP