Gov. Tony Evers said Wednesday that he and Republicans who control the Legislature are working toward a bipartisan compromise on a bill that would increase funding for local governments, a measure that the Democrat promised to veto as originally introduced.
The Assembly was slated to vote on the measure Wednesday afternoon, despite ongoing negotiations and no announcement of an agreement with Evers or the Senate. Evers said he expected negotiations to continue for weeks.
"I am optimistic and hopeful we can find a compromise that both meets the needs of our local communities and ensures our local partners have more flexibility to make decisions that work for them," he said in a statement, a rare outward sign of bipartisanship between the governor and the GOP-controlled Legislature.
Republican leaders of the Senate and Assembly did not immediately return messages seeking comment Wednesday.
Milwaukee Mayor Cavalier Johnson warned lawmakers last week that the city faces insolvency by 2025 without help. He, along with groups representing municipalities, police and firefighters, as well as numerous mayors and other local officials, all testified in support of reaching a deal that increases funding.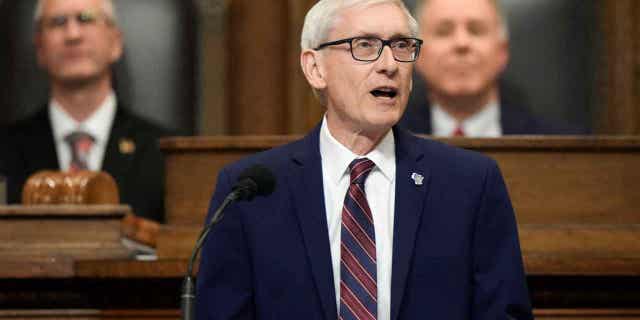 Wisconsin Gov. Tony Evers speaks during the annual State of the State address on Jan. 24, 2023, in Madison. Evers said that he believes a compromise can be reached on a bipartisan bill that would increase funding for local governments. (AP Photo/Morry Gash, File)
Under the bill as introduced, Milwaukee could levy a 2% sales tax and Milwaukee County could add 0.375% sales tax to its current 0.5% sales tax. Both would need voter approval, a requirement that Milwaukee officials have opposed.
WISCONSIN GOV. EVERS SIGNS GOP-BACKED BAIL AMENDMENT CLARIFICATION INTO LAW
But Evers, and many of the local officials who testified last week, said the current proposal comes with too many strings attached. Those include banning public health officials from ordering businesses closed for more than two weeks, cutting aid to communities that reduce the number of police officers and firefighters and prohibiting local advisory referenda questions.
CLICK HERE TO GET THE FOX NEWS APP
It would also mandate that local governments approve projects under the state's land stewardship program that are north of U.S. Highway 8, which runs across roughly the northernmost quarter of the state. Republicans have long raised concerns about such projects that protect the land from future development.