Kevin Costner is usually private about his family and home life, but the "Yellowstone" star gave fans a glimpse at what goes on behind the scenes as he revealed why he missed the 2023 Golden Globes.
Costner, 67, and wife Christine Baumgartner, 48, were noticeably absent from the Golden Globes ceremony Tuesday night, and it was due to the ongoing flooding in California.
"Yesterday we had to pull the kids out of school in Santa Barbara," the actor shared in the video. "This is the second time in five years that the freeway has flooded out, we found ourselves on the wrong side of the town, and we couldn't get back last night. Nobody's sadder than us that we can't be there at the Golden Globes. Chris had a beautiful dress, I was looking forward to walking down the red carpet with her."
 
 

 
 
View this post on Instagram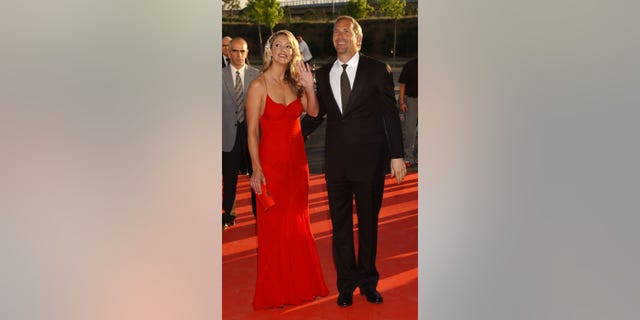 Kevin Costner and his wife Christine Baumgartner at the opening of the new "Porcelanosa" Store on May 5, 2005 in Madrid. (Getty Images)
Costner continued with an apology.
"I'm just so sorry that I can't be there. I really wanted to, I know how bad Chris wanted to support me," Costner said. "She went out and bought me some gold and yellow and black and silver balloons so we're going to sit at the television and see what happens."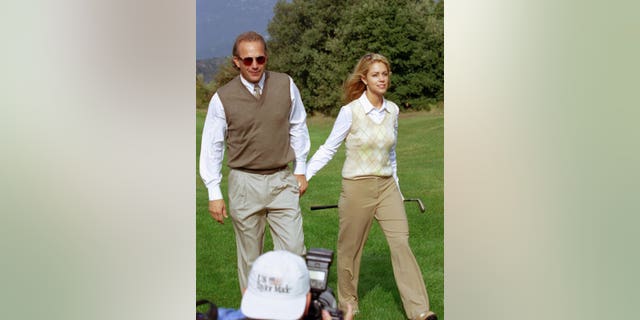 Kevin Costner and Christine Baumgartner during Big 3 Records Monte Carlo Invitational Pro-Celebrity Golf Tournament in Monaco. (Getty Images)
The couple has been together since 1998. Here's what to know about Christine Baumgartner:
Christine Baumgartner works as a handbag designer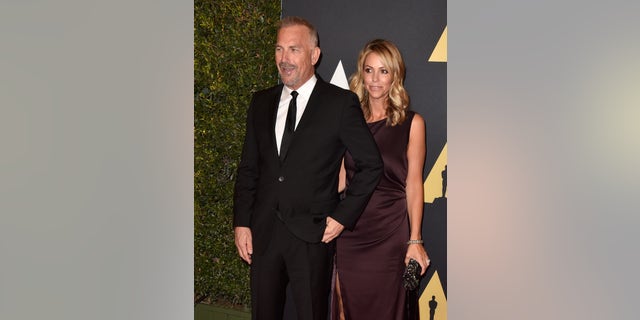 Kevin Costner and Christine Baumgartner attend the 2014 Governors Awards at the Ray Dolby Ballroom in Hollywood, California. (Getty Images)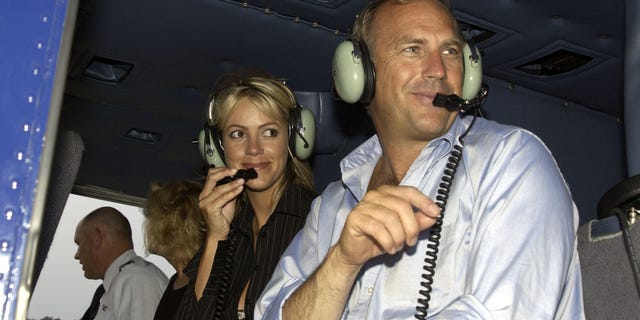 Christine Baumgartner and Kevin Costner got engaged in 2003. (Getty Images)
Baumgartner designs handbags for her label Cat Bag Couture.
The mother of three shared how she got her start in an interview with The Denver Post in 2005.
"When I came up with some samples, I showed them to Kevin, and he said they were beautiful and amazing," she recalled. "He told me I should take it to the next step and he'd help me. I've always loved fashion and style, and if you can mix it with function, it's perfect."
Kevin Costner and Christine Baumgartner married in 2004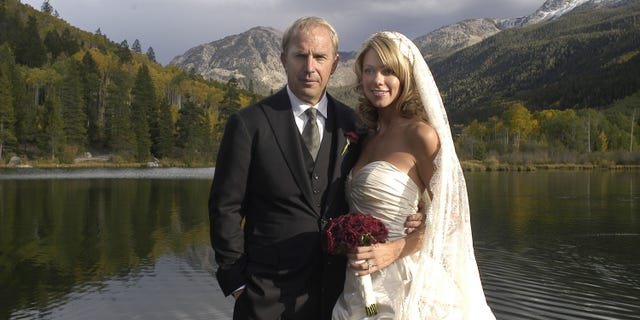 Kevin Costner married Christine Baumgartner at their Aspen, Colorado ranch on Sept. 25, 2004. (Getty Images)
Costner and Baumgartner announced their engagement in June 2003 after they began dating in 1998.
The two ran into each other at a restaurant after meeting a few years prior and began dating.
"We exchanged numbers, and I told her that I would – did she mind if I called her in two weeks. I did not realize that was like an insult to a woman," he told People magazine in 2003.
The two tied the knot in September 2004 at Costner's 165-acre ranch near Aspen, Colorado.
The couple shares three children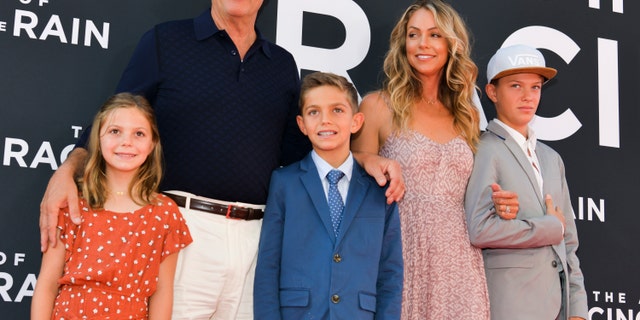 Kevin Costner and wife Christine Baumgartner pose with their three children. (Getty Images)
While Costner is father to seven children, he shares three of them with Baumgartner. The two are parents to teenagers Cayden Wyatt, Logan Hayes and Grace Avery.
Costner has shared what his home life is like when he is not making movies.
"I work as a provider. I'm a father and I'm a husband, but the world doesn't revolve around me," the actor previously told People magazine. "When I'm not making a movie, I'm living and on the freeway with my wife, getting the kids to their stuff or I'm waiting for them to come out of a party. I'm just twiddling my thumbs."
Kevin Costner and Christine Baumgartner faced obstacles before getting married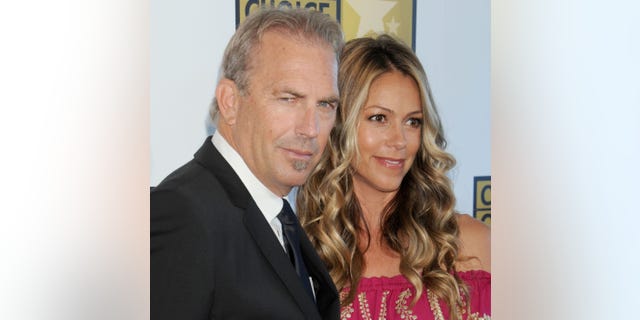 Kevin Costner and Christine Baumgartner arrive at the Critics' Choice Television Awards on June 18, 2012 in Beverly Hills, California. (Getty Images)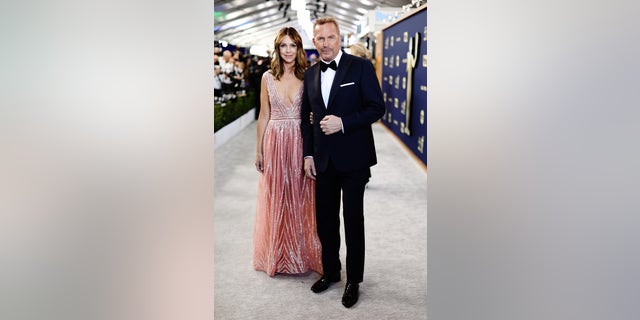 Christine Baumgartner and Kevin Costner attend the 28th Screen Actors Guild Awards at Barker Hangar on Feb. 27, 2022 in Santa Monica. (Getty Images)
Despite having three children together, there was a point in time when Costner was not sure he wanted to have more kids.
Before the two got married, Baumgartner gave Costner an ultimatum.
"Fear kept me from marrying Christine," the actor admitted during an interview with Closer Weekly in 2018. "[She] wanted a child, but I was afraid I couldn't be an effective father."
"I woke up and thought, 'Am I going to lose a beautiful woman who is willing to be with me to my very last breath because I am afraid to say yes to a child?' That's all it took. Sometimes you learn the thing you're most afraid of will save your life."
The family resides in Santa Barbara, California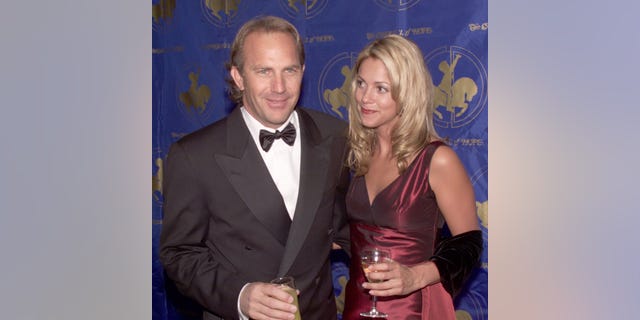 Kevin Costner and Christine Baumgartner live with their children in Santa Barbara. (Getty Images)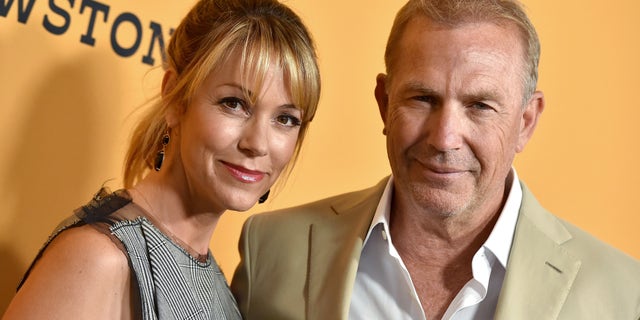 Christine Baumgartner and Kevin Costner arrive at the "Yellowstone" premiere. (Getty Images)
Costner, Baumgartner and their children live in a roughly 10.25-acre property a few miles outside of Santa Barbara in Carpinteria.
The actor listed the home in 2017 for $60 million, but records show the property never sold.
"It turns out I have more than I could ever dream of. This is a place that spoke out loud to me. To be on the water with my children and my wife," Costner previously told Visit California about his home.
The "Dances with Wolves" actor did not originally care for Santa Barbara saying, "I knew about Santa Barbara when I was a kid, I used to actually hate Santa Barbara because I lived in a town next to it called Ventura, so we played them in sports… One day I kind of got past that and thought what a great place to live."
Kevin Costner was previously married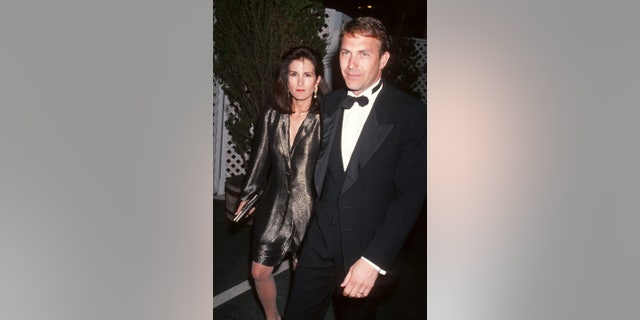 Kevin Costner was previously married to Cindy Silva. (Getty Images)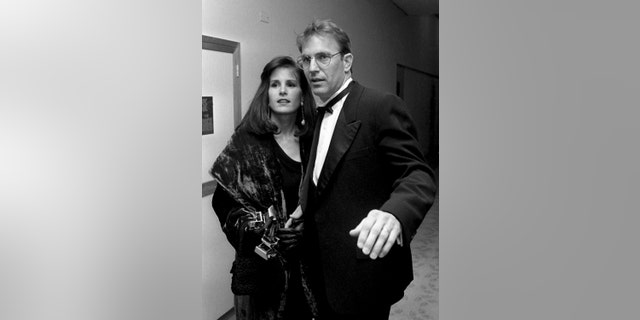 Kevin Costner and Cindy Silva were married for 16 years before divorcing in 1994. (Getty Images)
Before his marriage to Baumgartner, Costner was married to Cindy Silva.
The two married in 1978 and divorced years later in 1994.
Costner and Baumgartner first met while he was still married to Silva. The two ran into each other on the set of "Tin Cup" in 1996.
The western actor later revealed that his divorce was "a huge loss."
"My faith was shaken," he told The Hollywood Reporter in 2012. "No one wants their marriage to end, and it did. You are going to see the people you love most, your children, only half as much. That's a huge loss."
His divorce also cost Costner financially.
He reportedly paid Silva a settlement of $80 million, according to Forbes. The outlet reported that Costner's success at the time of the couple's marriage contributed to the settlement number.