The status of the Ukrainian city of Bakhmut was in question after Russia claimed it had gained control of it with the assistance of Wagner forces, and Ukrainian President Volodymyr Zelenskyy spoke solemnly of the city.
Speaking in Hiroshima, Japan Sunday during the G-7 Summit, Zelenskyy remarked that Bakhmut was "only in our hearts," hours after Russia's defense ministry claimed they had taken it.
"Mr. President, is Bakhmut still in Ukraine's hands? The Russians say that they have taken Bakhmut," a reporter asked Zelenskyy and President Biden at the summit.
"I think, no. But you have to transcend that there is nothing. They destroyed everything. There are no buildings," Zelenskyy responded.
The Russian ministry statement on the Telegram channel came about eight hours after a similar announcement by Wagner head Yevgeny Prigozhin. Ukrainian authorities, however, said at that time that fighting for Bakhmut was continuing.
The eight-month battle for Bakhmut has been the longest and possibly most bloody of the conflict in Ukraine.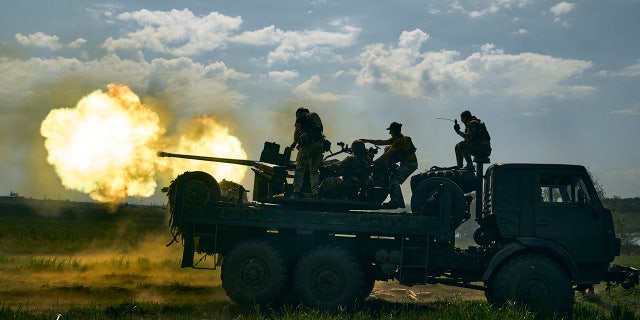 Ukrainian soldiers fire a cannon near Bakhmut, an eastern city where fierce battles against Russian forces have been taking place, in the Donetsk region, Ukraine, May 15, 2023.  ( AP Photo/Libkos, File)
Zelenskyy's comments Sunday morning came as Biden announced $375 million more in aid for Ukraine, which included more ammunition, artillery, and vehicles.
Using the city's Soviet-era name, the Russian ministry said, "In the Artyomovsk tactical direction, the assault teams of the Wagner private military company with the support of artillery and aviation of the southern battlegroup has completed the liberation of the city of Artyomovsk."
CLICK HERE TO GET THE FOX NEWS APP
Russian state news agencies cited the Kremlin's press service as saying President Vladimir Putin "congratulates the Wagner assault detachments, as well as all servicemen of the Russian Armed Forces units, who provided them with the necessary support and flank protection, on the completion of the operation to liberate Artyomovsk."