A new report shows that more than 40 states introduced bills or took steps to restrict teaching critical race theory or how teachers discuss racism and sexism in the classroom.
According to Education Weekly, "Since January 2021, 44 states have introduced bills or taken other steps that would restrict teaching critical race theory or limit how teachers can discuss racism and sexism, according to an Education Week analysis. Eighteen states have imposed these bans and restrictions either through legislation or other avenues."
Ed Weekly highlighted Parents' Choice Tennessee, a Franklin-based self-identified parents' rights group, which sued Williamson County Schools administrators last year in July over the district's curriculum. Parents' Choice Tennessee claims that the curriculum's teaching of critical race theory is in violation of state law and common core values.
TEXAS COLLEGE HIGHLIGHTS FEMINIST WORD 'WIMMIN' THAT AVOIDS WOMEN ENDING IN 'MEN:' 'MAKES CONVERSATION EASIER'
"The trend has proved to be an ongoing minefield for teachers and school districts, some of whom have already faced challenges to lessons and professional development courses in states where these laws have passed," Ed Weekly writes.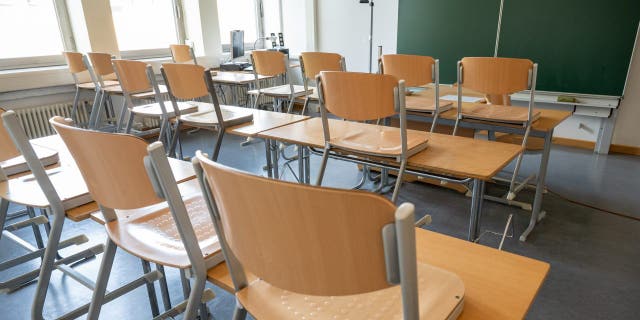 A new report shows that more than 40 states introduced bills or took steps to restrict teaching critical race theory or how teachers discuss racism and sexism in the classroom. (Peter Kneffel/picture alliance )
The book ban issue has been prevalent in red states such as Texas, Florida, Missouri, Utah, and South Carolina where local school boards took up the issue.
For instance, the Hillsborough County, Florida school board recently decided to ban "This Book Is Gay" from middle school libraries on March 28. "This Book Is Gay" was ranked ninth among the most banned books in the U.S. according to Vanderbilt University.
First published in 2014, the author Juno Dawson's how-to about gay relationships became a staple for sex ed classes. "This Book Is Gay," a nonfiction book geared toward LGBTQ+ youth, was criticized by many parents for sexually explicit descriptions and diagrams and even for promoting the use of hookup apps.
THERE HAVE BEEN 1,080 ATTEMPTS TO PUNISH SCHOLARS OVER THE PAST 23 YEARS: REPORT
As the book was labeled "pornographic," the Hillsborough County school board meeting reportedly spiraled into a heated debate about the graphic book. Dawson even told Rolling Stone Magazine a few weeks ago that the book was "definitely not pornographic," however also noted that the book is "not for children."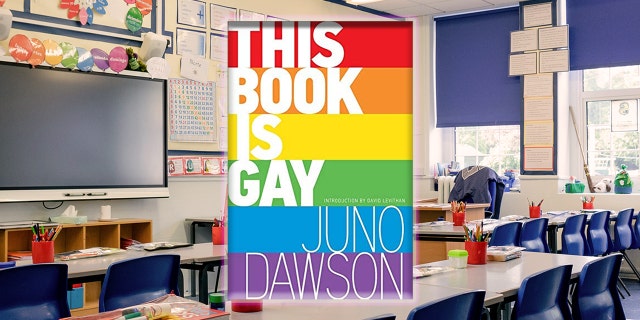 Fox News Digital previously reported that 'This Book is Gay,' which contains information on BDSM/kink, was found in DoDEA schools. (Juno Dawson | iStock)
The book bans during the 2022-23 school year came amid lawmakers across the United States implementing rigorous book review policies and other education reform legislation that addresses progressive curricula like critical race theory and gender theory being taught in classrooms.
Republican elected officials in several states have sought to ban discussion of gender ideology and critical race theory in classrooms, particularly for young students.
Most notably, Florida Gov. Ron Desantis' Parental Rights in Education Law currently prevents school employees or third parties from giving classroom instruction on "sexual orientation" or "gender identity" in all grades in K-12.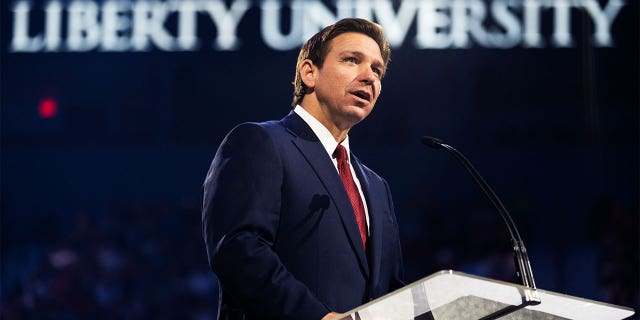 Florida Gov. Ron DeSantis (R) speaks during a convocation at Liberty University's Vines Center in Lynchburg, Va., on Friday, April 14, 2023. (Tom Williams/CQ-Roll Call, Inc via Getty Images) (Tom Williams)
CLICK HERE TO GET THE FOX NEWS APP
Since the pandemic, school board meetings have become battlegrounds between parents and school board officials. This has reignited the debate on how much control parents have over their children's education.
The book-ban policies underscore the phenomenon of parents across the country paying closer attention to school boards by challenging progressive curricula and contesting books they deemed inappropriate.