An international team of astronomers have discovered 25 new sources of repeating fast radio bursts – explosions in the sky from far beyond the Milky Way – doubling the total number of confirmed sources.
A study published in The Astrophysical Journal this week helped shed some light on the mysterious phenomena.
The researchers, including authors at McGill University in Quebec, gathered data, including from the Canadian Hydrogen Intensity Mapping Experiment (CHIME) radio telescope.
To find the new sources of FRBs, they used a new set of statistical tools developed to go over the data CHIME gathered between Sept. 30, 2019, and May 1, 2021.
ON THIS DAY IN HISTORY, APRIL 25, 1990, HUBBLE SPACE TELESCOPE PLACED IN ORBIT BY SPACE SHUTTLE DISCOVERY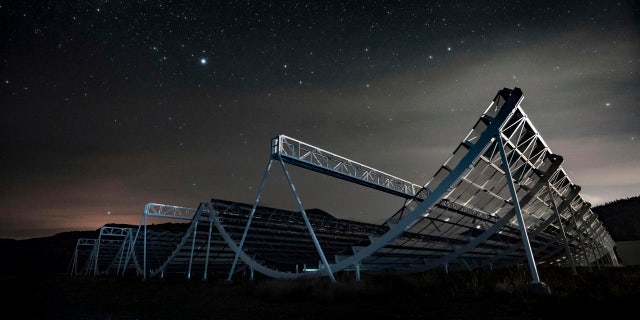 Astronomers have discovered 25 new repeating fast radio bursts. (Andre Renard/University of Toronto via AP)
"We combed through the data to find every repeating source detected so far, including the less obvious ones," Ziggy Pleunis, the first author of the paper who started working on the research as a PhD student at McGill University, said in a statement shared by the university. "These new tools were essential for this study because we can now accurately calculate the probability that two or more bursts coming from similar locations are not just a coincidence. It should be very useful for similar research going forward."
Adaeze Ibik, a PhD student in the David A. Dunlap Department for Astronomy and Astrophysics at the University of Toronto, said that the scientists had already identified likely associated galaxies for two of the FRBs.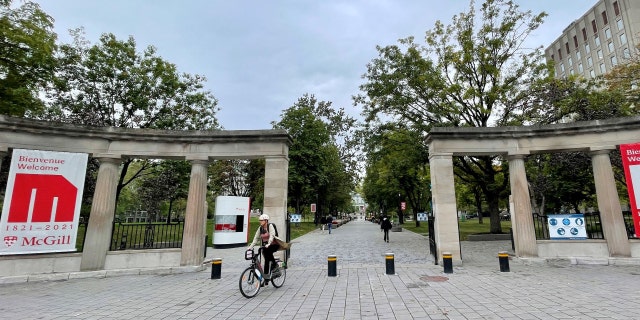 Students at the McGill University main campus in Montreal, Quebec, founded in 1821, on Oct. 6, 2021.  (DANIEL SLIM/AFP via Getty Images)
NEIL DEGRASSE TYSON SAYS JAMES WEBB SPACE TELESCOPE IS WINDOW TO UNIVERSE 'NEVER BEFORE ACHIEVED'
The exact origins of FRBs are unknown, although astronomers do know that they come from outside of our galaxy and are most likely produced by the cinders left behind after stars die.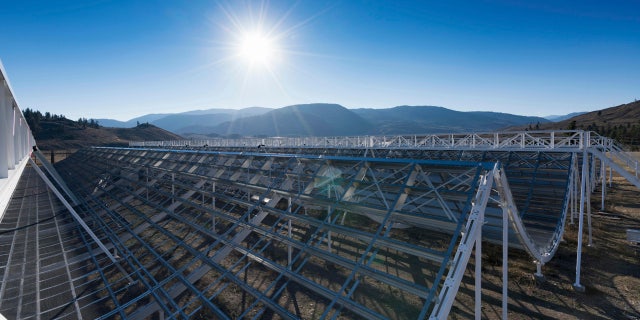 The CHIME radio telescope at the Dominion Radio Astrophysical Observatory in Kaleden, British Columbia. (Andre Renard/University of Toronto via AP)
One "unexpected" finding in the study was contrary to previous beliefs: all FRBs may be repeaters instead of just one-offs. It said that many repeating FRBs are surprisingly inactive, producing fewer than one burst per week, and that one-off FRBs have not been observed for long enough until now for a second burst to be detected.
CLICK HERE TO GET THE FOX NEWS APP
"FRBs are likely produced by the leftovers from explosive stellar deaths. By studying repeating FRB sources in detail, we can study the environments that these explosions occur in and understand better the end stages of a star's life," said Pleunis. "We can also learn more about the material that's being expelled before and during the star's demise, which is then returned to the galaxies that the FRBs live in."