An Arizona mother was stung more than 75 times Sunday afternoon while protecting her two children when bees swarmed them during a family photo shoot, officials said.
The family was taking photos in Buckeye Valley when the bees attacked, Arizona Fire and Medical Authority said. While the mother had raced to protect her children and get them into the car to safety, she was unable to escape the swarm.
Officials shared dispatch audio of the children's grandmother calling 911 and pleading to "please hurry, please hurry, my daughter can't get in the car, she's being attacked by bees."
Officials also shared video of firefighters using foam to calm the bees and rescue the children from the car.
CLIMATE CHAOS? BUGS WILL THRIVE IN AN EVER-WARMING WORLD, SAY SCIENTISTS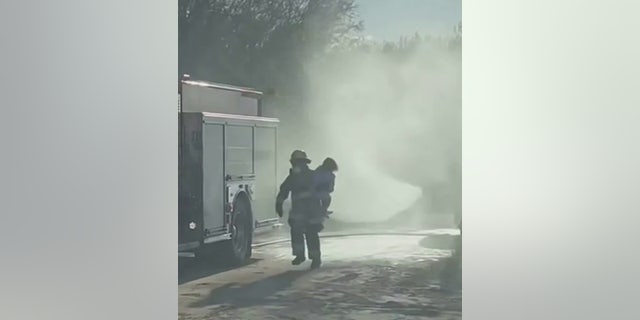 Firefighters carried the mother and her two children to safety after the family was swarmed by bees in Buckeye, Arizona, on Sunday. (Arizona Fire and Medical Authority)
"The Mother's quick thinking saved the children from being stung," the department said. "She put them in the car and subsequently took the brunt of the stings."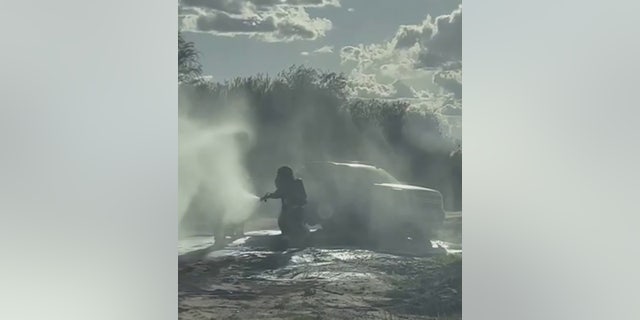 Firefighters used a foam spray to calm the bees and safety evacuate the family. (Arizona Fire and Medical Authority)
The mother suffered 75 bee stings while saving her children, according to fire officials, and has since recovered.
TEXAS HOME SWARMED BY 'MILLIONS' OF BEES, TRAPPING OCCUPANTS, INJURING 6 PEOPLE, INCLUDING FIREFIGHTERS
In the event of a bee attack, authorities said that getting inside to a safe place is key.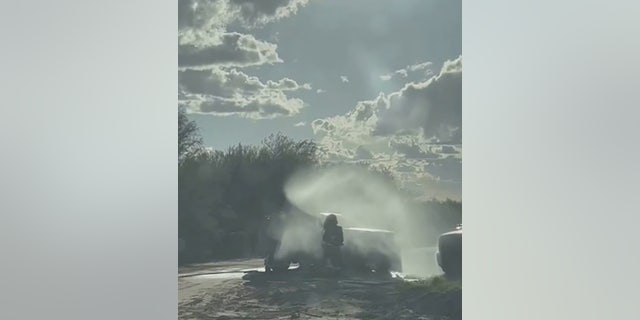 The mother had rushed her two children into their car away from the bees, an act that officials say saved the kids from getting stung. (Arizona Fire and Medical Authority)
"Run in a straight line, cover your face, and get to shelter. Never get into water and do not fight the bees," the department said.
Aaron Lorti, the owner of AZ Bee Kings, told FOX10 Phoenix that swarms often happen around this time of year because bees are pollinating and moving to new places, adding that bees around the Phoenix area are known as "killer bees."
"What that means is they are very, very aggressive, very territorial, and if you mess with them, they will try to kill you," Lorti said.