Ben and Jerry's founder Ben Cohen was arrested Thursday by Department of Homeland Security (DHS) police for blocking the entrance to the Department of Justice (DOJ) building in Washington, D.C., where he was protesting the detainment of Julian Assange.
Assange is currently imprisoned at Belmarsh Prison in London and may soon be extradited to the U.S.
Images from the scene showed Cohen sitting next to a woman holding a "free Assange" sign as police and security personnel stood nearby. Later images posted by the Associated Press showed Cohen being lead away in handcuffs by DHS officers.
CONSERVATIVE MOM DESCRIBES 'FRIGHTENING' EXPERIENCE WITH PROTESTERS AT SUMMIT, THREATS TO TAKE HER BABY
JAN. 6 RIOT SUSPECT ARRESTED OUTSIDE OBAMA HOME PLANNED TO BLOW UP VEHICLE OUTSIDE GOVERNMENT BUILDING: DOCS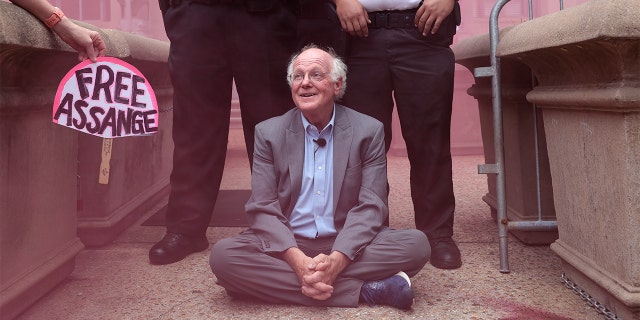 As a pink smoke bomb clouds the air, Ben Cohen, co-founder of Ben & Jerry's ice cream, refuses to leave an entrance outside the Department of Justice before being arrested July 6, 2023 in Washington, DC. (Win McNamee/Getty Images)
Cohen was previously arrested for disorderly conduct at another protest in Vermont in 2018, that time for speaking out against jet noise from Vermont Air National Guard jets.
CLICK HERE TO GET THE FOX NEWS APP