Recent signs the Biden administration has already released thousands of illegal immigrants before the end of Title 42 helps prove President Biden is more concerned with how the border crisis looks on television than how it is physically affecting Americans, a former top official at ICE told Fox News.
Ex-Acting ICE Director Tom Homan, who served during the Trump administration and is now a Fox News contributor, said it is clear Biden and Homeland Security Secretary Alejandro Mayorkas don't care what happens to the expected flood of migrants in coming days – or how it impacts American families at the border and nationwide – as long as there aren't images of massively overcrowded processing centers.
"[T]his is about the optics. They don't want pictures of overcrowded facilities. That is all they're concerned with – optics of the crisis, not concern of the crisis," Homan said Thursday on "The Story."
He noted how activists condemned the Trump administration for scenes of packed facilities and children being processed separately from their guardians as migrants matriculated through a more formal process.
MAYORKAS ISSUES NEW WARNING TO MIGRANTS AS BORDER PATROL MAKES RECORD APPREHENSIONS AHEAD OF TITLE 42 END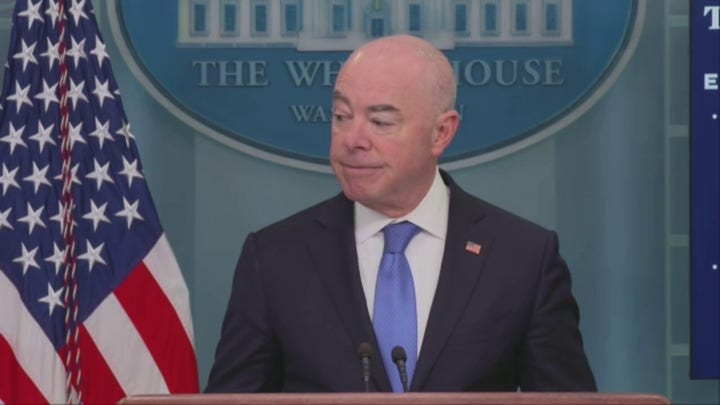 Video
Mayorkas' department said recently its latest messaging is designed to "counter lies peddled by smugglers" that the border is open – advertising in Central American countries that "U.S. immigration laws are tougher" and "crossing illegally is a crime."
However, Homan said DHS has already pulled 70% of border patrol agents off the front lines because of the current flow of migrants needing to be processed.
"When Title 42 gets dropped and more people come across, they're going to pull even more agents off the line to process or release [migrants] quickly," he said – underlining his belief that Biden's goal is to process migrants and/or release them into the country's interior as quickly as possible to avoid Trumplike criticism.
Doing so will prevent the "optics of a crisis," Homan said.
"[This] mean[s] more fentanyl gets across, more migrants die, more women and children trafficked to the United States, more known suspected terrorists [crossing] the border," he noted.
BIDEN ADMINISTRATION ADVERTISING 'TOUGHER' BORDER MEASURES AS THEY RELEASE THOUSANDS OF MIGRANTS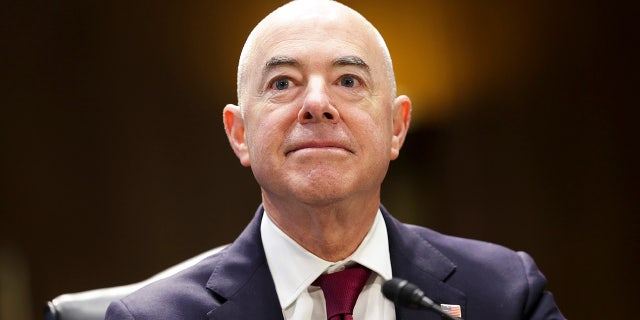 Homeland Security Secretary Alejandro Mayorkas (Kevin Dietsch/Getty Images)
"The national security job of the secretary is put on the back shelf because they don't want that optics they want and everybody processed and released," he said.
Chad Wolf, who preceded Mayorkas during the Trump administration, said that while the Biden DHS has commenced new immigration enforcement initiatives, they are rife with loopholes are largely unenforced – leading to little collective effect.
Wolf was responding to a clip of Mayorkas telling reporters that "we stand markedly different than the prior administration. We do not resemble it at all."
"I think what he's referring to is all the different initiatives that they have been trying over the last six months or more. A lot of those initiatives are the same as the Trump administration, except they're not actually enforcing a lot of those rules," Wolf said.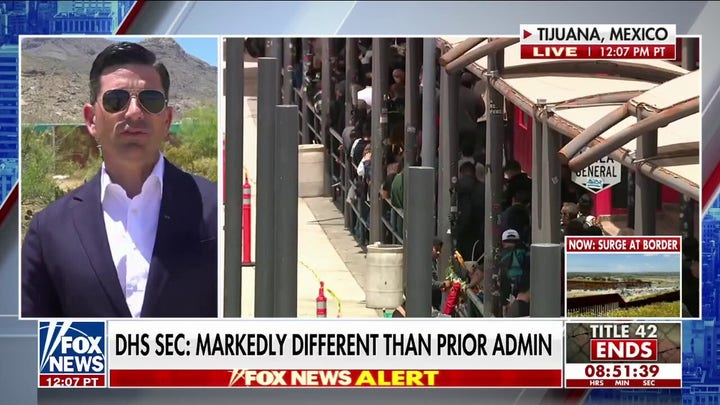 Video
Wolf claimed a new asylum rule Mayorkas introduced has so many exemptions and loopholes that it won't have much effect on the crisis.
"I think most Americans know that… that this administration, over the last 27 months has had a failed strategy in place. And instead of actually getting something and ready to go as Title 42 expires, they're kind of searching for it," he said.
"All of these plans should have been placed six months ago so that we're actually not having chaos at the border come midnight tonight."