Bud Light appears to be fed up with the backlash after the company disabled YouTube comments on a new countrified ad in the wake of ongoing controversy over its partnership with transgender TikTok star Dylan Mulvaney.
Bud Light's newest advertisement shows a young group of friends drinking beer in the rain at a country music festival as "Chicken Fried" by the Zac Brown Band plays in the background.
"Rain or shine, it's always easy to enjoy a Bud Light," the caption of the 30-second YouTube video reads.
BUD LIGHT TO SPEND 'HEAVILY' ON MARKETING AFTER DYLAN MULVANEY CONTROVERSY: REPORT
The ad first aired on TV during the NFL Draft on Thursday before it was shared on YouTube, amassing 10 million views since its release. Comments on the video were notably deactivated by Bud Light.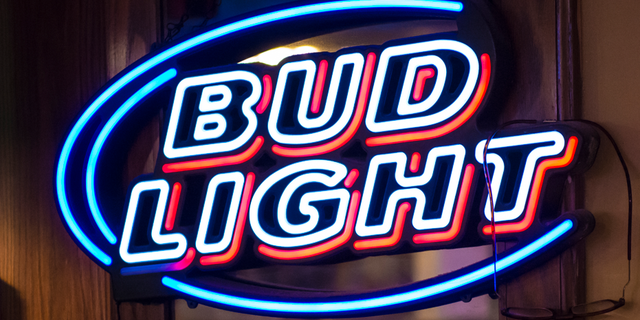 Signage of Bud light outside a bar in New York City, United States. Bud Light is Budweiser's flagship light beer with 4.2% ABV. The brand is owned by Anheuser-Busch which is the largest brewing company in the United States.  (LightRocket via Getty Images)
The ad is reportedly part of Anheuser-Busch's major marketing push as the beer giant scrambles to recover from the chaos following the Mulvaney sponsorship, which prompted widespread boycotts and a leadership shakeup at the company.
The commercial is the second pro-America ad released by the beer brand in recent weeks. Critics derided the first ad, which featured one of the brand's famous Clydesdale horses traversing the country, as a misguided attempt at quelling the backlash instead of offering a formal apology. The new ad strikes a similar tone, as the brand tries to move past the controversial partnership with traditional American messaging and country-themed imagery.
BUDWEISER'S NEW PRO-AMERICA AD SETS SOCIAL MEDIA ABLAZE: CAN'T PUT THE GENIE 'BACK IN THE BOTTLE, GUYS
The American-themed ads are likely the result of a shakeup at Bud Light's marketing team, and comes after Anheuser-Busch CEO Brendan Whitworth published a lengthy statement hoping to tamp down the animosity aimed at Bud Light and its parent company.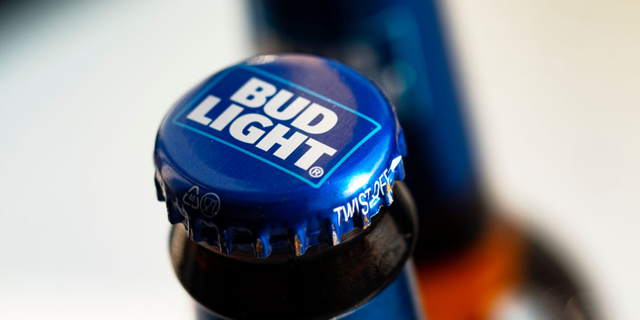 Bud Light's promotion of transgender activist Dylan Mulvaney continues to polarize Americans. (Getty)
The controversy began when Mulvaney revealed she received packs of the beer with her face printed on the cans as part of Bud Light's March Madness contest and as a way to celebrate a full year of "girlhood."
A second video then featured a bikini-clad Mulvaney frolicking in a bathtub while drinking a Bud Light beer as part of the campaign. Backlash has been significant, starting with many wondering if the pact was some sort of April Fool's gag. In the days since, country music singer John Rich said he pulled cases of Bud Light from his Nashville bar, conservative rocker Kid Rock used several Bud Light cases for target practice in a viral video, Anheuser-Busch distributors in rural areas have expressed concern and the beer juggernaut's value took a hit.
After weeks of staying silent, Mulvaney addressed the backlash in her return to social media last week.
"I do have some thoughts to share with you. So ,I've been having crazy déjà vu, because I'm an adult, I'm 26, and throughout childhood I was called too feminine, and over-the-top, and here I am now being called all those same things but this time it's from other adults, and if they're going to accuse me of anything, it should be that I'm a theater person and that I'm camp, but this is just my personality and it always has been," Mulvaney said.
ANHEUSER-BUSCH SHEDS ROUGHLY $5 BILLION IN VALUE SINCE BUD LIGHT'S DYLAN MULVANEY PACT SPARKED OUTRAGE'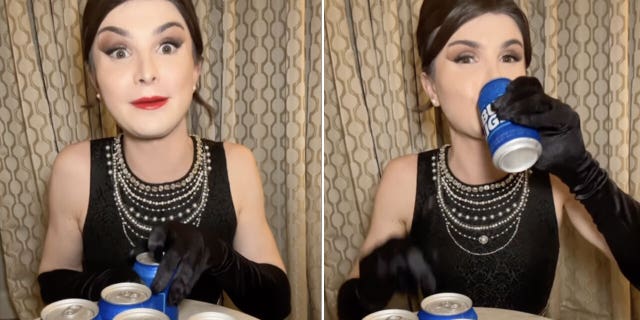 Dylan Mulvaney said she comes from a conservative, church-going family that still loves her "very much" in a return to social media following an extended absence on the heels of the outrage-inducing partnership with Bud Light.  (Instagram)
"What I'm struggling with most is that I grew up in a conservative family, and I'm extremely privileged because they still love me very much, and I grew up in the church, and I still have my faith which I am really trying to hold onto right now," Mulvaney continued. "I've always tried to love everyone, even the people that make it really, really hard, and I think it's OK to be frustrated with someone, or confused, but what I'm struggling to understand is the need to dehumanize and to be cruel, I just don't think that's right."
Mulvaney said "dehumanization has never fixed anything in history," and admitted she feared fans would start believing what critics were saying.
CLICK HERE TO GET THE FOX NEWS APP
"There is clearly no way of winning over everyone," Mulvaney said. "But, if you're still around, I am, too, and I love you."
Fox News' Brian Flood contributed to this report.