A Connecticut state representative who was attacked following a Muslim religious service has spoken about it for the first time since the incident.
State Rep. Maryam Khan was assaulted June 29 as she and her family were observing Eid al-Adha, one of Islam's holiest days, at Hartford's XL Center.
"On Wednesday, June 28th at approximately 11:05 a.m., I experienced an attempted sexual assault and violent physical assault," Khan wrote in her first statement since the attack. "I have sustained multiple physical injuries and it has taken an emotional toll on me and my family and children – who witnessed the attack and were in harm's way."
Suspect Andrey Desmond, 30, was arrested by Hartford police and charged with second-degree unlawful restraint, third-degree assault, second-degree breach of peace and interfering with police.
Fox News Digital reached out to Khan and the Connecticut police for comment but did not immediately receive a response.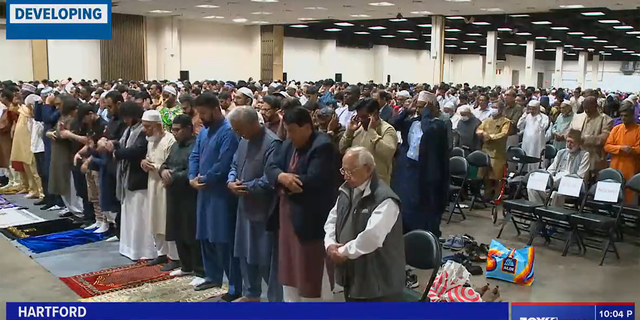 Muslims across Connecticut observed Eid al-Adha, one of Islam's holiest days, at the city's XL Center in Hartford on Wednesday, June 28, 2023. (FOX 61)
ARIZONA SCHOOL BOARD FACES INFERNO FOR TERMINATING CONTRACT WITH CHRISTIAN UNIVERSITY: 'RELIGIOUS PREJUDICE'
"I am immensely grateful to the courageous men who came to my aid and helped apprehend the attacker until the police arrived," Khan continued. Their courage and tenacity in those moments helped to save my life, the lives of my children and many other Muslim women and children that were still inside the XL Center. I am on a long journey of physical and emotional healing and I ask for your grace during this time."
Connecticut's Speaker of the House Matt Ritter and Majority Leader Jason Rojas, both Democrats, condemned the attack.
"It is especially painful that Rep. Khan was attacked on a holy night of peace and prayer," the two lawmakers said in a joint statement. "On a night she should be spending with her friends and family. Rep. Khan is an amazing leader and person who is committed to faith, love and service – we are sending our well-wishes and support tonight to Maryam and her family."
Fox News Digital's Lawrence Richard contributed to this report.