A conservative mom said her recent trip to the Moms for Liberty summit in Philadelphia was marked by "frightening experiences," with protesters at one point threatening to take away her 6-month-old baby.
Bethany Mandel, the co-author of "Stolen Youth" and mother of six, described the protesters' actions over the weekend as a "hate-filled siege" filled with "demonic" leftist activists.
On the first day of the Joyful Warriors National Summit, protesters congregated behind the Museum of the American Revolution barricade as attendees walked into the welcome reception. They called out a variety of chants amid a heavy Philadelphia Police presence. Some signs read "Stop homophobia" and "God is trans."
The Moms for Liberty staff had arranged tour buses to shuttle Mandel and others to the museum. But when she arrived, a large group of agitated protesters who claimed to be "protesting hate" began screaming at her group.
The woman recognized Mandel and the staffer's friend followed the Moms for Liberty group down the street, again yelling about taking Mandel's child.
Mandel expanded on her Post op-ed in a text message to Fox News Digital, saying she "took it as a threat" both times that someone made remarks referring to her baby.
"Not one I was frightened by," she added.
Looking back on the weekend, Mandel said the harassment inflicted by protesters was "scary" but did little to dent the enthusiasm of the summit attendees. She noted that attendees did not get angry or apologize for their views and characterized Moms for Liberty as a "group of joyful warriors" set on protecting America's children "at all costs."
MOMS FOR LIBERTY STRESS THE IMPORTANCE THE PARENT VOTE WILL PLAY IN THE PRESIDENTIAL PRIMARY: 'GAME-CHANGER'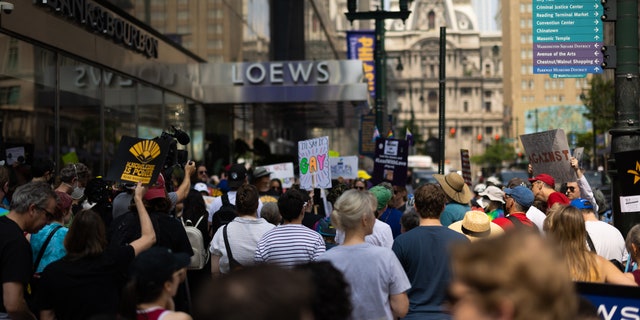 Bethany Mandel said the protesters' actions did nothing to deter the jovial mood of attendees at the summit.  (Fox News Photo/Joshua Comins)
The weekend was also filled with moments of learning and activism. Workshops allowed speakers to talk about campaign strategies and mothers connected over meals about important issues like education, politics and the best ways to benefit their respective communities.
Issues surrounding the Moms for Liberty event, which included appearances from former President Trump, Gov. Ron DeSantis, former Govs. Nikki Haley and Asa Hutchinson, and Vivek Ramaswamy, began before the summit had even started.
The event at the Museum of the American Revolution received considerable backlash from the community since its announcement, and Moms for Liberty's official Twitter account announced on June 29 the museum had been vandalized overnight.
The tweet featured three photos showing a sign and mural defaced, as well as a broken window.