The state Senate has confirmed Gov. John Carney's two nominees for the Delaware Supreme Court, including a lawyer tapped by Carney for the high court after he was arrested for drunken driving.
Carney's nominations of Abigail LeGrow and N. Christopher Griffiths were confirmed Wednesday with no support from Senate Republicans. Despite Griffiths' DUI arrest in January, GOP lawmakers were primarily outraged that, for the first time in decades, there will be no resident of Kent County on the state's highest court.
"The governor of this great state threw us under the bus," said Sen. Eric Buckson, a Kent County Republican.
GOP SENATORS PUSH TO RAISE PRISON TIME FOR SCOTUS PROTESTERS AFTER GROUPS MOBBED CONSERVATIVE JUSTICES' HOMES
Senate Minority Whip Brian Pettyjohn of Georgetown described Carney's decision to forego nominating a justice from central Delaware as "insulting."
Last week, members of the Democrat-controlled House unanimously passed a bipartisan bill mandating that the five-member Supreme Court include at least one justice from central Kent County, one from southern Sussex County, and two from northern New Castle County. The state Senate declined to take up the bill before voting on Carney's nominees. Two Dover-area Democratic senators who cosponsored the bill, Trey Paradee and Kyra Hoffner, voted Wednesday to confirm Carney's picks.
"Judge LeGrow and Chris have the experience, knowledge, and commitment to public service necessary to serve on the Supreme Court," Carney said in a statement issued after they were confirmed.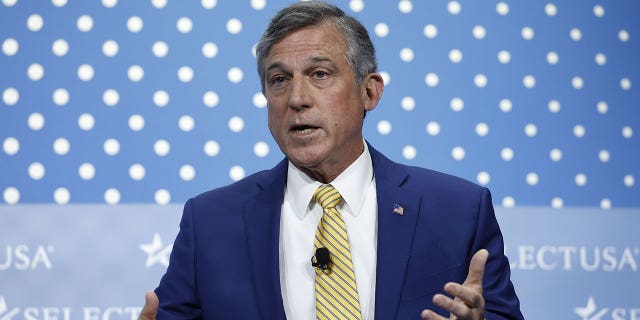 Delaware Gov. John Carney speaks on May 3, 2023. Carney's two nominees for the state Supreme Court, Abigail LeGrow and N. Christopher Griffiths, have been confirmed by the state Senate. (Ting Shen/Bloomberg via Getty Images)
Before the Senate vote, Pettyjohn questioned Griffiths during a Senate Executive Committee hearing about the traffic stop that led to his arrest, but Griffiths offered few details.
"The bottom line is this, I had too much to drink, and I should not have drove," said Griffiths, who said he complied with the trooper who stopped him.
Griffiths, who will be the first black man to serve on the Supreme Court, also indicated that he feared that the trooper, whom he nevertheless described as "a complete gentleman," might physically abuse him because of his race.
US MARSHALS WERE TOLD NOT TO ARREST PROTESTERS AT SUPREME COURT JUSTICES' HOMES 'UNLESS ABSOLUTELY NECESSARY'
"I'm a black man driving around in lower Delaware at a mostly white beach, and I want to go home to my family," Griffiths said. "There's a lot of things in the national news that are burned in our minds and our hearts, and I wanted that officer to know "we're on the same team.'"
"I have images in my brain from the biases I bring to that situation of, man, I want to make sure I go home tonight. I want to make sure there's not a knee in my back but that I go home alive," Griffiths added.
Griffiths pleaded guilty in March to reckless driving that was alcohol-related, an offense he compared to "a simple traffic ticket." He was fined and ordered to complete an education course for those charged with driving under the influence.
CLICK HERE TO GET THE FOX NEWS APP
LeGrow and Griffiths replace Tamika R. Montgomery-Reeves, who now sits on a federal appeals court, and Justice James T. Vaughn Jr., a Kent County resident who retired effective this week.
LeGrow has served as Superior Court judge since February 2016. She previously served as a Master in Chancery on the Delaware Court of Chancery. LeGrow received her law degree from the Pennsylvania State University. Griffiths has been a partner at the Wilmington law firm of Connolly Gallagher, which also employs Democratic state Sen. Kyle Evans Gay. He previously was a wealth manager for Wilmington Trust Company and the Vanguard Group. Griffiths, who received his law degree from Villanova University, is the son of Norman Griffiths, a retired DuPont attorney who served 20 years on the Wilmington City Council.