According to a new report from Axios, not all of President Biden's advisers and staff think criticisms of his age are unfounded. Some do think it is a liability.
In a piece detailing the American people's misgivings about Biden being 82 at the time he would start a second term as president, the outlet mentioned that his "close advisers" too have claimed that his age poses some challenges.
Several of them have said his age has "diminished his energy," and "limited his schedule."
BIDEN RULE WILL REDISTRIBUTE HIGH-RISK LOAN COSTS TO HOMEOWNERS WITH GOOD CREDIT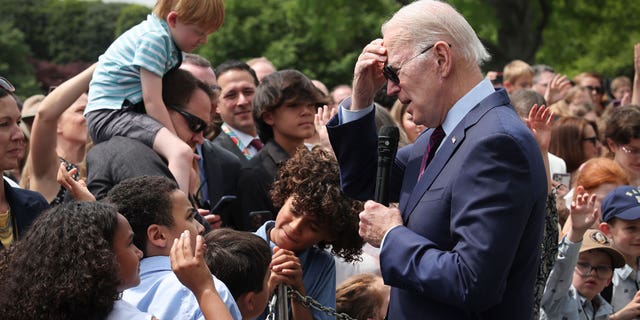 Many have expressed concern over President Biden's age as he prepares to run for re-election.  (Win McNamee/Getty Images)
Biden aides have also compared Biden to an "aging king," whose staff work hard to keep him protected. According to these anonymous sources, his staff do "not take chances" when it comes to his safety.
The report, published Friday, opened with the question on many Americans' minds about the president's re-election bid: "Polls show that most voters of most ages wonder the same thing: Can President Biden really win the White House again at nearly 82 — and run it competently into age 86?"
Axios then noted that White House staff dread this question and try to dodge it whenever possible. It said, "It's a line of questioning the White House hates, and tries to brush off. But there are so many unknowns to rolling into your mid-80s with more power than anyone on Earth."
The report next mentioned Republican Party criticism of Biden's age, specifically "Republicans bluntly saying Biden might not live through a second term." It also featured 2024 GOP presidential candidate Nikki Haley's appraisal that Biden making it to 86 and the end of his two terms is "not something that I think is likely."
Though the White House's behavior seems to indicate they worry over these criticisms and take steps to protect Biden from embarrassing moments, as the outlet has observed.
BIDEN BLUNDERS: PRESIDENT STUMBLES HIS WAY THROUGH GAFFE-FILLED WINTER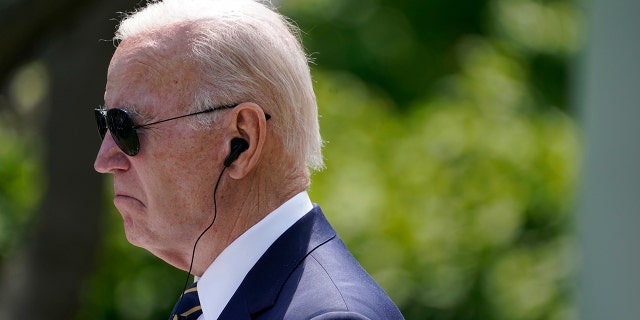 Axios detailed how even White House staff see Biden's age as a potential liability in the 2024 campaign.  (AP Photo/Evan Vucci)
According to Axios, "The White House rarely puts Biden in improvisational settings — or in front of hostile questions from reporters. So it's tough for anyone outside his tight bubble to truly appraise the reality of Biden being the oldest president in U.S. history."
It mentioned how his close advisers "say he's mentally sharp. But even some of them concede his age has diminished his energy, significantly limiting his schedule." They praise his stamina, the piece noted, however, with the caveat "for his age."
Axios also reported that some of these advisers "concede his age has diminished his energy, significantly limiting his schedule." It pointed to a quote from MSNBC contributor and former White House press secretary Jen Psaki, who commented, "President Biden does nothing at 9 a.m. He is a night owl," when hearing the president made remarks on the Silicon Valley Bank crisis at 9:15 AM last month.
The piece even offered the observation that "The White House is basically hiding Biden as he auditions for another term," backing up the point with an admission from some White House aides that staff treats Biden like "an aging king."
They told the outlet that "He has a tight-knit palace guard of longtime aides whose first instinct is to protect him, and not take chances." Axios reinforced that narrative, adding, "As president, Biden hasn't done an interview with The New York Times, The Washington Post or The Wall Street Journal — a break from decades of presidential precedent."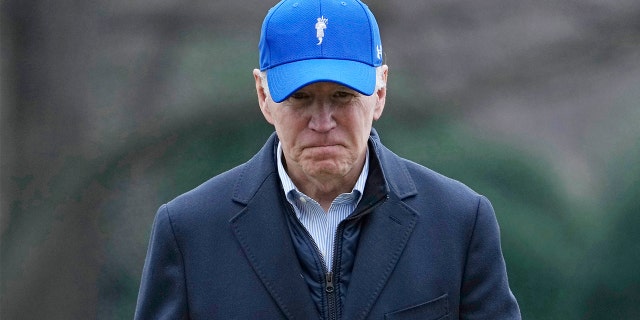 President Biden walks off Marine One on the South Lawn of the White House in Washington, Monday, Feb. 6, 2023. (AP Photo/Susan Walsh)
The outlet surmised that Biden is not going to be getting out that much during his re-election campaign, claiming, "The bottom line: This likely will be the most Rose Garden-centered presidential campaign in nearly half a century — since President Ford in 1976."
CLICK HERE TO GET THE FOX NEWS APP
Axios noted that the White House disputed the claims in this piece. It stated, "In response to this reporting, White House Deputy Chief of Staff Jen O'Malley Dillon sent a one-word reply: 'False.'"
Additionally, Deputy Press Secretary Andrew Bates pushed back on the characterization of the aging Biden, telling Axios, "To quote a young, healthy, and capable AP reporter's tweet about the president energetically mixing with service members in the middle of a long trip back to the U.S. from Asia: 'I am so tired.'"