More than two dozen GOP senators are proposing tougher penalties for criminals who target law enforcement officers – including the death penalty – and expanded self-defense protections for those officers ahead of National Police Week.
Sen. John Cornyn, R-Texas., on Thursday led a group 37 of his GOP colleagues including Minority Leader Mitch McConnell, R-Ky., to introduce the Back the Blue Act. The law creates a new federal crime for killing, attempting to kill or conspiring to kill a federal law enforcement officer, federal judge or federally funded public safety officer.
"Our law enforcement officers put their lives on the line every day to serve families across Texas," said Cornyn.
I'M A FORMER FBI SPECIAL AGENT, HERE'S WHY I WANT YOU TO BACK THE BLUE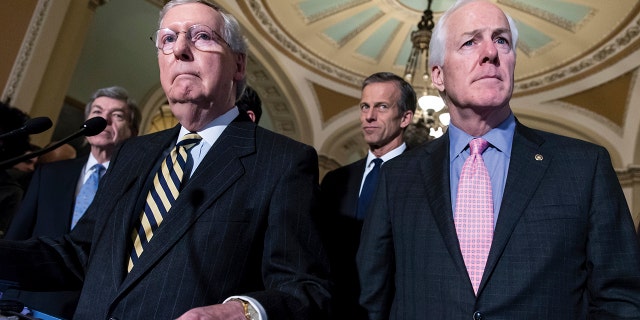 Sen. Mitch McConnell, R-Ky., left, and Sen. John Cornyn, R-Texas, right, talk to reporters. (AP Photo/J. Scott Applewhite)
"Violent criminals who target those who protect our communities should face swift and tough penalties, and the Back the Blue Act sends that clear message," he said.
The measure would also make the offender subject to the death penalty and a mandatory minimum sentence of 30 years if the attack resulted in the death of a federal officer. The offender would otherwise face a minimum sentence of 10 years.
PHILADELPHIA MAYOR: IF YOU DON'T 'BACK GUN CONTROL,' YOU DON'T 'BACK THE BLUE'
The GOP proposal creates a new federal crime for assaulting a federally funded law enforcement officer with escalating penalties, including mandatory minimums, based on the extent of any injury and the use of a dangerous weapon.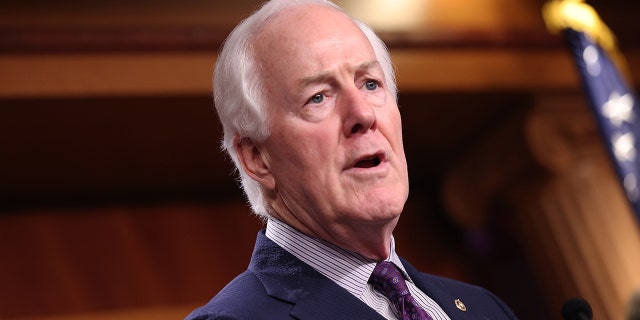 Sen. John Cornyn (R-TX) speaks on a proposed Democratic tax plan, at the U.S. Capitol on Aug. 4, 2021 in Washington, D.C. (Kevin Dietsch/Getty Images)
To bolster self-defense protections, the bill would let law enforcement officers, subject to some limitations, to carry firearms into federal facilities and other jurisdictions where such possession is otherwise prohibited.
HOUSE HOMELAND COMMITTEE DEMANDS ANSWERS FROM BIDEN NATIONAL SECURITY OFFICIALS ON 'COP CITY' ATTACK
The Back the Blue Act would impose limits on federal courts' review of challenges to state-court convictions for crimes involving the murder of a public safety officer, when the public safety officer was engaged in the performance of official duties.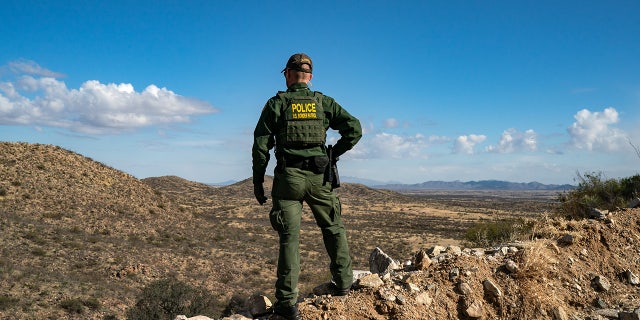 A U.S. Border Patrol agent stands on a cliff looking for migrants that crossed the border wall between the U.S. and Mexico near the city of Sasabe, Arizona, on Jan. 23, 2022. (Salwan Georges/The Washington Post via Getty Images)
The bill clarifies that the murder or attempted murder of a law enforcement officer or first responder is a statutory aggravating factor for purposes of applying the federal death penalty.
CLICK HERE TO GET THE FOX NEWS APP
Cornyn first introduced a version of the bill in 2016 following the killing of five police officers during a shooting in Dallas. Thursday's version of the bill carries the most co-sponsors yet.