North Korean leader Kim Jong Un reportedly indulges in popular European food and alcohol, favoring Parma ham and whiskey commonly found on grocery store shelves, according to a U.K. defense expert.
"Kim Jong Un is the 36th richest man in the world and in 2018 took delivery of two special Maybach Mercedes S600s, has 17 palaces and a private plane," defense expert and professor Anthony Glees told the Daily Star.
"And, according to his chef, he is an inveterate boozer, drinks Black Label Scotch whisky and Hennessy brandy, and a heavy smoker," Glees continued.
The professor added that Kim, 39, has reportedly earned a nickname that translates to "the fat one" in English.
Kim also allegedly indulges in expensive Yves Saint Laurent black "ciggies" and big portions of Parma ham, a type of prosciutto from Italy's Parma region.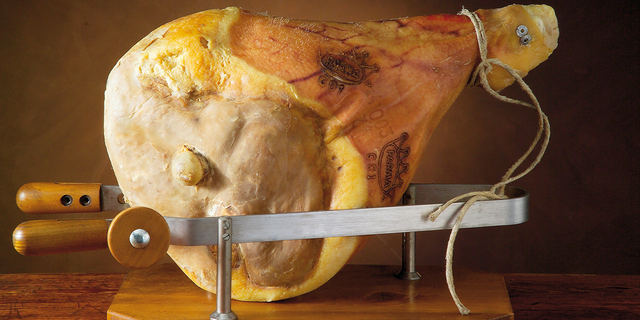 Parma dry-cured ham (DeAgostini/Getty Images/File)
Glees' comments come after South Korea's intelligence service told reporters last month they believe Kim could be suffering from insomnia while abusing alcohol and tobacco, and they speculate he weighs roughly 300 pounds. Intelligence service leaders added that they believe he is "hoarding" insomnia medications such as zolpidem.
News of possible health issues for the North Korean dictator have been floated before, including speculation that his health was suffering after he skipped a series of important events earlier this year.
CLICK HERE TO GET THE FOX NEWS APP
"He ordered his henchmen to smear the blood of executed officials on his uncle who was said to have passed out with shock before himself being executed."