Rapper Ice Cube spoke on Bill Maher's "Club Random" podcast and alleged there is a financial connection between the rap music industry and private prisons.
Rapper O'Shea "Ice Cube" Jackson was one of the members of N.W.A, a group that pioneered the "gangsta rap" genre with songs like "F— Tha Police" in 1988. In recent years, the rapper has made headlines for questioning left-wing dogma and working with former President Trump.
Maher spoke with the rapper about the excesses of woke ideology in everyday conversation. Maher observed there is a "Mean Girls" mentality where people are looking to fault people for not using updated racial terms like "Latinx," even if the groups discussed do not use the term themselves.
"It's weird how the names always changing every so like 20 or 30 years somebody wants to put a new label on the same thing," Ice Cube said. He went on to suggest that petty debates like this are forced on society to divide people and prevent them from questioning the problems they all should unite to address.
"Who benefits and profits off our bickering and division?" Ice Cube asked rhetorically. "Follow the money."
"I don't know their names Bill, but if you follow the money, you go high enough, you start to see," he added. He then used the record industry as a "broad example of how people at the top can manipulate what's going on with the people who are bickering and fighting."
Ice Cube alleged that the "same people who own the [record labels] own the prisons," noting that, "It seems really kind of suspicious, if you want to say that word, that the records that come out are really geared to push people towards that prison industry."
BILL MAHER HANDS OUT 'COJONES AWARDS' TO THOSE WHO FOUGHT AGAINST CANCEL CULTURE MOBS
Ice Cube then said they are not directly running the record labels but have financial interests in them.
Maher analyzed Ice Cube's theory further that "the kind of stuff in rap lyrics works as a funnel to get people inspired to do the kind of things that would get them in prison." Maher noted that one lyric such as "F— the police" might qualify as lyrics that could inspire criminal behavior.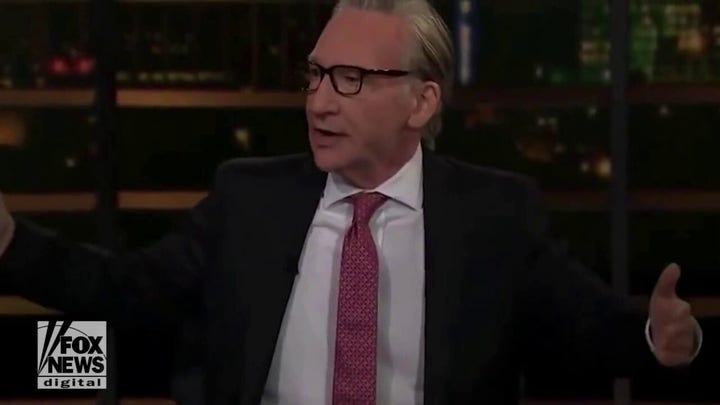 Video
CLICK HERE TO GET THE FOX NEWS APP