Vice President Kamala Harris kicked over a beehive after she said some firearms have "no place" in civil society on Twitter Thursday.
Biden's vice president has a history of verbal gaffes, but she was very clear in a tweet that called for an "assault weapons ban" from Congress, promising the president himself would sign it.
"Weapons of war have no place on the streets of a civil society," she tweeted. "Congress must pass an assault weapons ban. President Biden will sign it."
Critics ranging from political commentators to gun rights organizations scorched the vice president in response.
JOE ROGAN SCORCHES 'CORRUPT CAREER POLITICIAN' BIDEN AND HIS 'TIES TO UKRAINE AND CHINA'
Radio host and author Dr. Mark Young tweeted, "Make you a deal we will ban all the weapons that you can show are used on an actual battlefield. Which is not an AR15."
"That's why we left $7 billion dollars in real weapons of war on the streets of Afghanistan . . . because they aren't civil!" American firearms Association wrote. "*laughs in bimbo Kamala*"
NEW POLL REVEALS VOTERS' THOUGHTS ON KAMALA HARRIS IF BIDEN CAN'T FINISH SECOND TERM
Some commentators implied Harris was being hypocritical by calling for citizens to disarm while she benefits from having a security team.
"Your body guards, and dozens of 'civil' agencies like the USDA, the US Dept. of Ed., and the EPA possess the firearms you are calling weapons of war," Rep. Thomas Massie, R-Ky., tweeted. "The reality is you want every citizen disarmed and every government agency armed with these guns."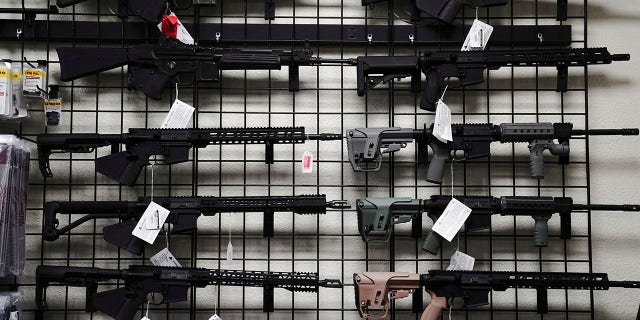 AR-15 style rifles are displayed for sale at a gun store. A California court recently upheld a ban on assault weapons like the AR-15 rifle.  (REUTERS/Bing Guan/File Photo)
CLICK HERE TO GET THE FOX NEWS APP