A lawsuit brought by a former altar boy who said he was raped as a child in the 1960s by a now-deceased Roman Catholic bishop in Massachusetts has been settled, the sides announced Friday.
The plaintiff identified in court papers as John Doe alleged in the suit filed in February 2021 that not only was he abused by former Diocese of Springfield Bishop Christopher Weldon as well as two other clergy, but also that the church engaged in a yearslong coverup to protect the bishop's reputation and legacy.
The suit also said that even after abuse allegations against Weldon were found to be credible, diocesan officials as late as 2019 denied them.
ILLINOIS REPORT HIGHLIGHTING CLERGY ABUSE UNLIKELY TO LEAD TO CRIMINAL CHARGES AGAINST CHURCH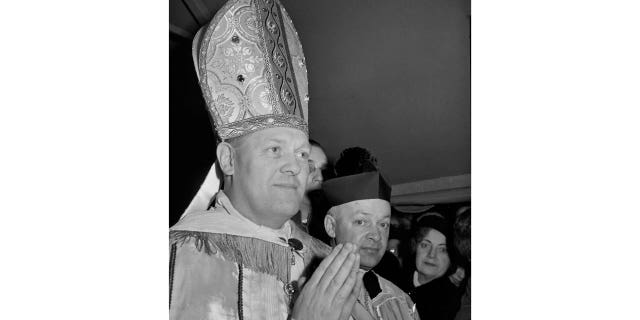 The Diocese of Springfield has settled with an ex-altar boy whose sex abuse claims against Bishop Christopher Weldon (pictured), who died in 1982, were deemed credible. (AP Photo/Abe Fox, File)
The alleged abuse occurred when the plaintiff was an altar boy at St. Anne Parish in Chicopee, Massachusetts when he was from 9 to 11 years old. Weldon served as bishop from 1950 until 1977 and died in 1982.
Before the lawsuit was even filed, a retired Superior Court judge hired by the diocese found that claims of abuse regarding Weldon were "unequivocally credible," and that there was a "reluctance to fervently pursue an evaluation of allegations against (Weldon) due to his prominence and revered legacy in the religious community."
PUSH TO REQUIRE MORMON CLERGY TO REPORT CHILD SEXUAL ABUSE IN UTAH STALLS
CLICK HERE TO GET THE FOX NEWS APP
The diocese fought to have the suit dismissed based on charitable immunity and the doctrine of church autonomy, derived from the First Amendment, even taking their case to the state's highest court. The Supreme Judicial Court, however, last July ruled in the plaintiff's favor.