Minnesota Attorney General Keith Ellison, D., wrote a letter to Target warning that their decision to pull Pride merchandise from certain stores encourages bullying and will embolden "hateful" methods.
Ellison co-led an open letter of 15 AGs expressing their concerns over Target pulling products in response to consumer outrage, and said they could use civil rights law to defend the corporate giant.
Target faced backlash over their Pride Month displays with rainbow and LGBTQ+ messaging that included new products like female-style swimsuits that can be used to "tuck" male genitalia.
Target also notably pulled items from "Satanic" designer Erik Carnell's brand Abprallen with messages such as "cure transphobia not trans people." While they were reportedly not included in Target's Pride collection, Abprallen has distributed apparel that includes satanic imagery including pentagrams, horned skulls, and references to the devil. One design found on the apparel maker's t-shirts and pins has the message: "Satan respects pronouns."
"Against this backdrop, Pride merchandise like Target's helps LGBTQIA+ people see that they enjoy considerable support and that loud and intimidating fringe voices and bullies do not represent the views of society at large," the letter claimed. "We understand Target recently pulled some Pride merchandise from its shelves out of concern for worker and customer safety," the letter states.
The letter went on to caution Target that by giving in to consumer outrage, it is telling them that their methods work.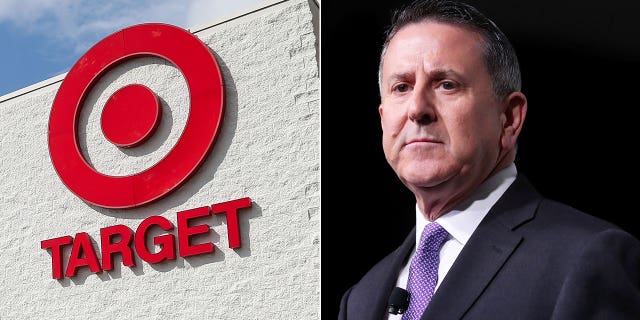 The AGs letter was sent to Target CEO Brian Cornell. (Paul Weaver/SOPA Images/LightRocket via Getty ImagesREUTERS/Shannon Stapleton)
TARGET CUSTOMERS SHOCKED AFTER COMPANY FEATURES PRIDE ITEMS BY SATANIST PARTNER: DEVIL IS 'HOPE' AND 'LOVE'
"Indeed, all our states have laws protecting against discrimination on the basis of sexual orientation and gender identity in places of public accommodation like Target stores. While these laws certainly do not create a legal obligation for retailers to offer any particular merchandise or create any particular displays, they do demand that customers be treated equally," the letter stated. "In this context, we urge Target to be mindful of its obligations under these laws as it makes decisions as to how to respond to backlash against its Pride merchandise."
New York Post writer Ariel Zilber contributed to this report.