Secretary of the Navy Carlos Del Toro on Friday defended his recent remark that climate change is a "top priority" for the Navy and said he thinks the issue is just as important for the Navy as ensuring a steady stream of sailor recruits.
At a House Armed Services Committee hearing, Rep. Jim Banks, R-Ind., noted Del Toro's prior comments about the importance of climate change and asked Del Toro how that issue stacks up with others, at a time when the Navy is struggling to meet its recruiting goals.
"In the military, we know when you make one thing a priority you have to acknowledge that other things might be less of a priority," Banks said. "So where does climate change factor into the priorities that you have as the secretary of the Navy?"
NAVY SECRETARY CITED CLIMATE CHANGE AS TOP PRIORITY AS BIDEN PROPOSES SHRINKING THE FLEET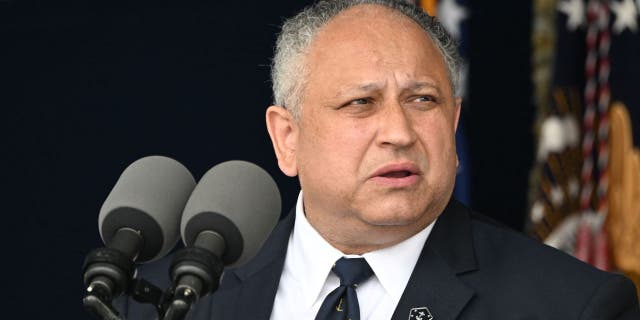 US Navy Secretary Carlos Del Toro defended his past comment that climate change is a top priority for the Navy. (Photo by MANDEL NGAN / AFP) (Photo by MANDEL NGAN/AFP via Getty Images)
"As I said then, it is a top priority," Del Toro replied. "Let me give you an example. When I was commanding officer of the USS Bulkeley I tied up to one of our new piers in Norfolk…."
Banks interrupted to ask whether climate change was as important as recruiting for the Navy, and whether it was as important as expanding the U.S. fleet.
"They're all equally important. They all have an impact on our combat readiness," Del Toro said.
"I stated what my adjutant priorities are: Strengthen maritime dominance, strengthen our cultural warfighting excellence, and improve our relationships with our allies and partners around the world, and climate is included in all three of those," he added.
NAVY RENAMES SHIP OVER TIES TO CONFEDERATE OFFICER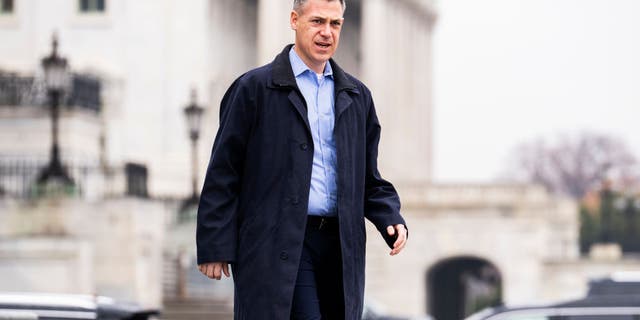 Rep. Jim Banks, R-Ind., pressed Del Toro to say where climate change ranked compared to other priorities, like recruiting and fleet strength. (Tom Williams/CQ-Roll Call, Inc via Getty Images) (CQ-Roll Call/Getty Images)
When pressed later in the hearing on the same issue, Del Toro clarified, "I never said climate change was the number one priority, I said climate change was a top priority."
The exchange took place just weeks after Del Toro made waves in a speech in the Bahamas that climate change has been one of his top priorities since he took office.
"The U.S. Navy and Marine Corps team has been working on climate and energy security for a long time," he said then. "And we are accelerating and broadening those efforts."
Del Toro has defended that position even as Republicans charge that he, the Pentagon and the Biden administration are losing sight of the main focus of the military in order to pursue extraneous goals like climate, equity and eliminating extremism in the ranks.
CHINA OUTPACING US IN WARSHIP PRODUCTION, NAVY SECRETARY WARNS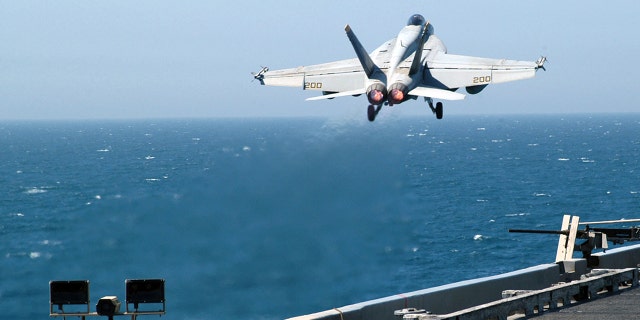 The Navy is under pressure to explain why it is supporting a budget request that shrinks the fleet at a time when China's fleet is growing, and instead focusing on climate change. (Photo by Tyler J. Clements/U.S. Navy/Getty Images) (Photo by Tyler J. Clements/U.S. Navy/Getty Images)
The Navy and other service branches have had difficulty recruiting new service members. Last September, the Navy said it met its goal for fiscal year 2022 but had to reduce the number of delayed entry sailors to get there.
The Navy has also been criticized for the disconnect between remarks from Del Toro and other leaders who say they want a 355-ship fleet, and the annual budget request, which each year under Biden has called for shrinking the fleet from the roughly 296 ships it currently has in operation.
CLICK HERE TO GET THE FOX NEWS APP
On Friday, Del Toro again faced tough questions on the budget despite its call for a smaller fleet, in questioning from Rep. Rob Wittman, R-Va.
"I'm not a mathematician, but I do not know any laws of math that allow you to do addition by subtraction," he said of the latest budget, which calls for building nine ships and retiring 11.